Sahrawi Housing and Land Rights @ Morocco's UPR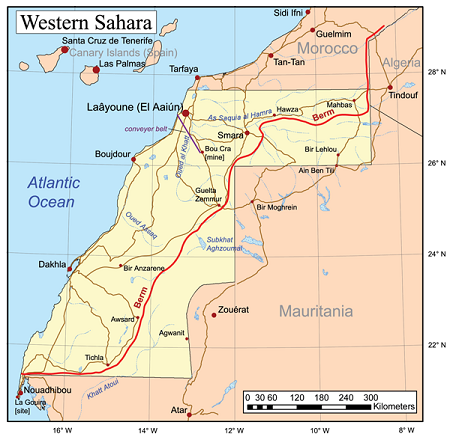 As in the case of other illegal occupations and colonization, Morocco's 1975 invasion and ongoing effective control of Western Sahara has accompanied gross violations of human rights, in particular the human right to adequate housing amid the occupier's practice of dispossession of land, forced eviction, house demolition and plunder of natural resources. During Morocco's 8 November 2022 Universal Period[c Review (UPR) session before the UN Human Rights Council, these rights and their violation became a matter of record, as well as a subject of several recommendations from assembled state delegations.
A joint stakeholder submission to the UPR by The Sahrawi Association in the United States of America (SAUSA) and HIC-HLRN, Human Rights Related to Habitat (Land, Housing, Population Transfer, Natural Resources) in Moroccan-occupied Western Sahara, presented this typical colonial pattern in the context of the associated serious crime of population transfer. Although the Nuremberg and Tokyo Military Tribunals already had prosecuted these acts as war crimes and crimes against humanity in the wake of World War II, they remain the practice under the dual occupations in the MENA region, carried out by Israeli and Morocco. The report provided documented detail of this pattern in the case of Moroccan-occupied Western Sahara, concluding with recommendations, including full reparation of the individual and collective Sahrawi victims, as is their right and entitlement.
Among the devices used by Moroccan occupation authorities is The Hague Regulations' Article 43-prohibited alternation of the legal system of the occupied territory. They apply Moroccan law to dispossess Sahrawis of their lands and homes by denying customary tenure to tribal grarat lands. These are tribal lands with palm groves or desert trees such as acacia, which also act as natural storage of scarce water for agriculture and drinking.
The SAUSA/HIC-HLRN report also chronicles cases of Sahrawi homes demolished by occupying forces, These also illustrate the continuum of losses, costs and damages that the Sahrawi people have incurred under Morocco's policy of violating the Sahrawi people's individual and collective human right to adequate housing. The report also recounts in detail the demolition and dispossession of Sahrawi homes and lands throughout the period from 1976 to the present.
These acts parallel Morocco's forced, coerced and incentivized population-transfer policy, with its purpose and effect of demographic transformation of the territory ahead of any eventual UN-mandated referendum among indigenous Sahrawis to determine the country's future political status. Meanwhile Morocco's extractivism continues to deplete natural resources ranging from water and agriculture to the Sahrawi people's fisheries and mineral wealth, as well as illegally exploiting Western Sahara's renewable energy potential for Morocco's own benefit.
In this UPR, SAUSA and HIC-HLRN recommended that states call on Morocco to:
Implement its IHL obligations in Western Sahara;
Discharge its duty, as occupying Power, to protect the Sahrawi people's lives, livelihoods, lands and means of subsistence;
Cease its opposition to the Security Council expanding the mandate of MINURSO to include human rights monitoring;
Protect and restore all Sahrawi personal and collective properties taken and/or damaged under Moroccan occupation;
Provide full reparations for all Sahrawi individual and collective losses, costs and damages endured at Moroccan hands since 1975.
The organizations further called on all states participating in the UPR of Morocco to:
"Ensure respect for" the Fourth Geneva Convention and other IHL norms applicable to Morocco's occupation of Western Sahara;
Fulfill the erga omnes duty not to recognize, cooperate or transact with the illegal situation in Moroccan-occupied Western Sahara;
Implement their extraterritorial human rights and erga omnes obligations with respect to the Sahrawi people, including through their conduct of foreign policy, illicit trade and by regulating all natural and legal persons operating in their jurisdiction and territories of effective control in accordance with Human Rights Treaty obligations and peremptory norms.
During the UPR session, numerous state delegations called on Morocco to reform its criminal justice, especially current criminalization of opinion and expression, abolish the death penalty, continue to strive for gender equality. Among the positive observations were Morocco's efforts at social protection of migrants. Capo Verde and Mali commend Morocco on its ambitious housing programs.
However, the occupation of Western Sahara was a resounding theme during the constructive dialogue. Uganda called for Morocco to establish an accountability mechanism to fill monitoring gap and address the rights of the people of Western Sahara. Vanuatu thanked Morocco for its cosponsorship of the right-to-environment resolution in the 2021 Human Rights Council and at the General Assembly this year, as well as forming part of the core group toward a GA resolution, calling for an advisory opinion. Vanuatu also recommended that Morocco allow the Working Group on Business and Human Rights to visit the Western Sahara region.
Venezuela noted the restrictions on freedom of expression and actions of security forces and the denial of self-determination in Western Sahara. The Venezuelan delegation called for Morocco to allow the referendum for free expression of the people's self-determination.
Algeria expressed serious concerns regarding serious and systematic violations of human rights under the Moroccan occupation of Western Sahara, and called on Morocco to allow all relevant organizations and observers to visit the territory, to avoid business activities in the territory without approval of Sahrawi people, and to end the occupation.
Ireland focused on the need for protection of journalists and human rights defenders (HRDs) and to continue to face violence, including sexual violations, and respect the human rights of people in Wester Sahara, and enhance cooperation with OHCHR in the occupied territory.
Luxembourg also called for respect of the human rights of Sahrawis, including enabling their self-determination and cooperating with OHCHR to allow its mission to the region. Mexico: recommended that Morocco respect Amazigh and Sahrawi rights, in general.
However, Namibia was the most outspoken, reminding that self-determination is well established in law, calling for an end to the occupation and allow for the promised referendum to determine Western Sahara's status and allow Sahrawis to enjoy all their rights, In exercise of states' extraterritorial human rights and international law obligations in the UPR context, Namibia also called on all states not to recognize the illegal situation in Western Sahara, rather than to choose expediency over international law.
Norway specified the need for Morocco to respect freedoms of assembly, association and expression, especially for human right defenders and journalists, and to allow OHCHR's full access in Western Sahara.
Panama called on Morocco to cooperate with UN Mine Action to clear its mines from Western Sahara. South Africa recommended Morocco enhance cooperation with OHCHR, including facilitating its access to Western Sahara, release political prisoners; and apply international humanitarial law, in general, and the 4th Geneva Convention, in particular, to Sahrawis, also allowing the Working Group on Business and Human Rights to visit Western Sahara and a the conduct of an independent assessment of human rights there. Timor Leste also called for Morocco to facilitate OHCHR access to Western Sahara and to respect and protect the human rights of all in Western Sahara; enable the exercise of self-determination/
Meanwhile, the State of Palestine, the other occupied sovereign in the MENA region, remained silent on the matter of the treatment of Sahrawis or the denial of their self-determination.
Morocco's response asserted that the "southern provinces" is a matter of Moroccan territorial integrity and (falsely) informed the body that OHCHR already has visited the area, that Morocco already has received six Special Rapporteurs there, and continues to invite more, The delegation, headed by Ambassador Omar Zniber and Abdellatif Ouahbi, Minister of Justice of Morocco, justified its position by stating that over 30 diplomatic missions already operate there as accredited to Morocco.
The delegation asserted also that the UN Security Council has considered the Kingdom of Morocco's autonomy proposal for the territory as credible and serious. The delegation added that Morocco has invested heavily in these "Moroccan regions," but "others with allegiance to another country have created a crisis that impacts peace and security. The Moroccan delegation chastised other states speaking on the subject, saying, "You are disrupting this meeting," and called for all to take a more-constructive approach.
Download Human Rights Related to Habitat (Land, Housing, Population Transfer, Natural Resources) in Moroccan-occupied Western Sahara
See all documents from the 4th cycle of Morocco's UPR
Photo on this page: Nearly 200,000 Saharawi refugees live in the Algerian desert. Source: DG ECHO.