Food Crisis and MENA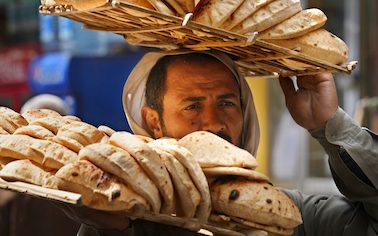 The World Council of Churches (WCC), in collaboration with the Civil Society and Indigenous Peoples' Mechanism (CSIPM) for relations with the UN Committee on World Food Security (CFS) held a webinar in December 2022, providing a comprehensive update and discussion on the global food crisis and the response to that crisis. The event built on the regional popular consultations organized by CSIPM regional facilitators in July 2022, with representatives sharing key updates and insights on regional strategies to surmount the food crisis and build a sustainable future.
The objective of this process is to help mobilise civil society, Indigenous Peoples and faith communities to advocate justice and promote resilience among communities. The work is also expected to help inform policymakers, from national governments to the UN system, about the challenges and needs in each region.
HLRN Program Advisor Heather Elaydi and HIC's facilitator for the CSIPM urban food insecure constituency, Hala Barakat, were asked to contribute a report on the Middle East and North Africa (MENA) region to the event, given that regional CSIPM facilitators for West Asia and North Africa did not hold a consultation. The report, to be published after the event, outlines the particular challenges faced by the MENA region during this multi-layered crisis brought on by increased food prices, inflation, supply chain disruptions caused by the pandemic, and now the war in Ukraine. In the report, the authors focus on two of the most pressing issues in the MENA region: conflict, war and occupation, and women's rights.
The MENA is the world's most food import-dependent region, resulting in a food supply that is highly vulnerable to price fluctuations and supply chain disruptions. It represents just 6% of the world's population yet is home to 20% of the world's food insecure people, due largely to the impact of protracted conflict.
In Yemen, even prior to the onset of the war, the country had high levels of food insecurity amongst its population and was highly dependent on imports for food, as its own food production system was severely hampered by water scarcity. After 11 years of war, Syria is still a conflict hotspot, with 12 million Syrians – more than 60% of the population – now considered food insecure, which is more than at any other point during the war. Palestinian farmers and fisherfolk are frequently targeted by illegal Israeli settlers and the Israeli army, who destroy crops, uproot trees, shoot at boats at sea, and block access to farmland and fishing waters, while Gaza is often subjected to full-scale military attacks, in addition to being impacted by the global rise in food prices. In Western Sahara, Sahrawis are winning some battles to prevent Morocco from profiting from their natural resources, but countries such as Spain are ignoring rulings on respecting Sahrawi sovereignty, while food rations to Sahrawi camps in Algeria have been recently cut by WFP.
Throughout the MENA region, where roles and responsibilities associated with food security and nutrition largely fall on the shoulders of women and girls, and despite the key roles women play in food systems, female-headed households experience more severe financial burdens and themselves are the most susceptible to food insecurity, with a prevalence of malnutrition, including undernourishment and obesity (13.2% and 28%, respectively). Women in the MENA region own only 5% of agricultural land but represent at least 40% of the agricultural workers. Women's land ownership in Egypt is only 5%, while Morocco sits at 4.4%, Tunisia at 6.4% and Jordan at only 3.4%. It is estimated that 90% of women in the MENA region have experienced sexual and gender-based violence (SGBV), with hunger known to be a main cause of SGBV. Some of the most food insecure women in the region are displaced domestic workers, who are often migrants and refugees.
The impact of conflict on food security is well known, and its role as the "single greatest driver of hunger" has been acknowledged by the FAO. Despite this, governments are not taking the necessary actions to end conflicts, nor are they willing to meet the humanitarian needs of communities facing hunger and famine situations through funding. In this context, it is necessary for affected communities to be given the power of decision making for their own well-being.
Photo: A bread vendor carrying Egyptian traditional baladi flatbread in the Old Cairo district of Cairo, Egypt, 22 March 2022. Source: Amr Nabil/AP.