Civil Society Vision @ HLPF 2022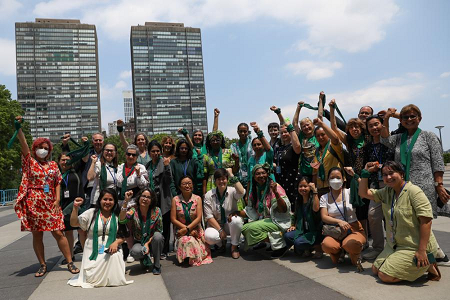 Meeting at UN Headquarters in New York from 5 to 15 July 2022, the High-level Political Forum (HLPF) convened states, development agencies and stakeholders under the theme "Building back better from the coronavirus disease (COVID-19) while advancing the full implementation of the 2030 Agenda for Sustainable Development." Within that framework and under the auspices of the Economic and Social Council (ECOSOC), the first HLPF segment reflected on the Sustainable Development Goals (SDGs) selected for thematic review: SDG 4 (quality education), 5 (gender equality), 14 (life below water). 15 (life on land) and 17 (partnerships for the goals). . The presentation and review of country-specific Voluntary National Reviews (VNR's) began on Monday, 11 July, and the ministerial segment shared the agenda on 13–15 July, ending with a focus on multilateralism for a resilient and inclusive recovery, and "Looking ahead: Acting today to secure a better future.
The various stakeholders also participate in the deliberations under conditions set by UN General Assembly resolution A/RES/67/290 and 2030 Agenda (para. 89). Since the first United Nations Conference on Environment and Development in 1992, also known as the Earth Summit, UN member states recognized that achieving sustainable development would require the active participation of all sectors of society and all types of people. Agenda 21 , adopted at the Earth Summit, formalized nine sectors of society as the main channels through which broad participation would be facilitated in UN activities related to sustainable development. These are officially called Major Groups and include the following sectors:
Business and Industry
Children and Youth
Farmers
Indigenous Peoples
Local Authorities
Non-Governmental Organizations
Scientific and Technological Community
Women
Workers and Trade Unions
This MGOS Coordination Mechanism organized a plenary session in collaboration with UN DESA to discuss pathways and present concrete proposals for reaching the Agenda 2030 goals in the post- COVID-19 recovery. The session, organized under the title "Vision of civil society: Leaving no one behind in recovering better," coordinated messages to the states and UN Development System called for systemic reforms to remedy structural inequalities and contribute to building more equal, inclusive, sustainable and resilient societies.
H.E. Mr. Collen Vixen Kelapile, President of the Economic and Social Council opened the session with opening remarks Mr. Liu Zhenmin, Under-Secretary-General for Economic and Social Affairs of the United Nations, and Ms. Mabel Bianco, President of the Fundación para Estudio y Investigación de la Mujer and Co-Chair of the MGOS Coordination Mechanism.
The following interactive discussion featured five resource persons:
Ms. Wezzie Chimwala, Monitoring and Evaluation Manager, Voluntary Services Overseas (VSO), Malawi; and
Mr. Wali Haider, Joint Director of Roots for Equity, Focal Point for Farmers` Major Group at UNEP, and co-chair of Asia Pacific CSO Regional Engagement Mechanism (APRCEM)
Ms. Emilia Reyes, Programme Director, Policies and Budgets for Equality and Sustainable Development, Equidad de Género: Ciudadanía, Trabajo Familia; and
Ms. Svetlana Slesarenok, Founder and Director, Black Sea Women's Club, Odessa, Ukraine
These were followed by two lead Discussants:
Mr. Saad Alfarargi, United Nations Special Rapporteur on the Right to Development
Mr. Denison Jayasooria, Head of the Secretariat for the All-Party Parliamentary Group Malaysia on Sustainable Development Goals (APPGM-SDG)
The MGOS panelists articulated their vision of recovery by identifying the major impediments to sustainable development for which states are responsible to resolve as a matter of priority:
Wealth disparity within states and between developed and developing countries;
Food insecurity amid the industrialization of food systems at the expense of local food sovereignty, as well as the current food and fertilizer crisis created by the war in Ukraine;
The sovereign debt crisis in which governments accrue unmanageable levels of indebtedness that cause economic instability and often are externalized at the expense of the public;
Climate change and the refusal of states and industries to combat it;
Gender equality and the continuing material discrimination against women and girls, and multiple forms of gender-based violence and human rights denials;
Inequitable distribution of land, like other forms of wealth and resources disparity, financializing land and concentrating land ownership at the expense of those who rely on land for livelihood, culture, identity and means of subsistence and survival;
Corporate capture remains a threat to democracies in the domestic sphere, but also has severely afflicted the policy space within the UN and its implementation;
Conflict, occupation and war are human-made disasters that not only impedes development, as noted in the 2030 Agenda (para. 35), but inflict senseless human costs, devastate natural environments, waste precious resources and reverberate with protracted conflicts and instability that divide humanity;
Citizenship is in crisis with governments restricting freedom of expression and participation in decisions that affect them, while creating barriers of exclusion on the basis of arbitrary and often-discriminatory criteria;
Human rights face a crisis in the UN System, with states evading their treaty obligations and diverting political attention and other resources away from the UN Human Rights System, while human rights defenders, including activists and journalists, facing persecution and murder to silence them;
The persistent culture and ideology of the defunct single-minded notion of "growth economy" obfuscates actual economic performance and metrics of economic health by ignoring distributive criteria that actually determine equitable and sustainable development;
COVID-19 has pushed "resilience" to the limit, while raising critical interrogation of that notion, amid uneven recovery and the exposure of structural barriers to means of survival and putting the onus of recovery on victims and the most vulnerable.
With this diagnosis of key impediments to sustainable development, the MGOS also issued some specific priority demands. That called for (1) an immediate Russia withdraw from Ukraine, (2) an end to financing coal by the end of 2022, (3) waving intellectual property rights on vaccines, (4) an end to discrimination on the basis of work and descent (explicitly mentioning slavery practiced in Mauritania); (5) appreciating that education that fosters critical thinking is key "transforming our world."
Among the specific proposals from the panel was a call to form a study group of five states and five CSOs to assess the role of CSOs in the UN System at HLPF 2023.
This year, 44 states submitted VNRs, and 19 cities presented Voluntary Local Reviews at the HLPF. During the 2022 session, three governments fell and women's rights experienced set back, particularly in the United States, and sobering discussions invoked the realization that many of the failures to meet the SDGs are unrelated to COVID-19, despite what HLPF participants have been telling themselves and each other over the past two years.
In its role within the NGO Major Group, HIC participated in the drafting of the NGO papers on each of the four SDGs reviewed this year, as well as a paper on interlinkages. HIC-HLRN cooperated with sister network ANND in coordinating the CSO inputs on VNRs of Arab states, including Jordan, Somalia and Sudan. HIC also was engaged in coordinating the assessments of VNRs: Djibouti, Eritrea and United Arab Emirates.
A major focus of the HLPF is the negotiated Ministerial Declaration. This time, it is comprised of 142 paragraphs, longer than the 2030 Agenda itself. Negotiating the paragraphs on gender equality were particularly challenging, The paragraph on self-determination of peoples living under foreign and colonial occupation sparked controversy, even though it only replicates paragraph 35 of the 2030 Agenda.. US, Israel and Canada opposed it, many abstained, but it was preserved in paragraph 131 the final version. In the final analysis, the Declaration reaffirmed already standing commitments obligations under environmental treaties (paras. 75 and 103). Human rights obligations were preserved in the section on SDG 5 concerning gender equality (paras. 38–50)) and SDG 15 (life on land), with reference to Indigenous Peoples (para. 69). The Declaration's preamble asserts that it is grounded in human rights, and human rights (e.g., water and sanitation, para. 111; development, para, 131; and related to digital technology, para. 134.c) are mentioned also under "Other priority issues."
The next HLPF will take place in July 2023, to be followed by the SDG Summit and Summit and the Future in 2023 to be convened under the auspices of the UN General Assembly, the highest level of the UN System.
See the statements delivered at the MGOS session
Download the 2022 HLPF Ministerial Declaration [AR]
Photo on front page: The Women`s Major Group takes a family photo to celebrate their 30 years of activism within the UN. Photo on this page: Green scarves hung from the podium of MGOS speakers, demonstrating solidarity with. and raising awareness about the need to protect human rights defenders. Source: IISD.