Sanctuary in the City: Beirut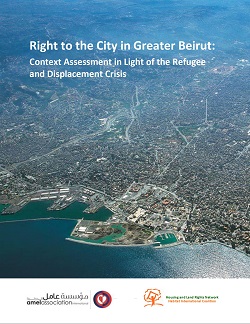 HLRN recently has completed a joint project with Amel Association (Lebanon) to raise the prospect of improved municipal governance and assess the related needs of local government and authorities in the context of the refugee and displacement crisis in Greater Beirut. With support from Cities Alliance and in cooperation with United Cities and Local Governments (UCLG) the project represents the first organized effort to introduce the range of human rights governance approaches in a city of the MENA region.
HLRN and Amel focused on Lebanon's capital as a city largely formed and characterized by human migration through its history, while more recently afflicted by displacement due to local and regional conflicts. With some 1.5 million persons in Lebanon uprooted by the war in Syria since 2011, Beirut is also a prime example of how the global responsibility for the refugee crisis is discharged locally through its municipalities and local authorities.
To address this complexity and current challenges, the project involved a series of four workshops and consultations with partners in each of three communities: (1) refugees, (2) municipalities and local authorities, and (3) civil society. The consultations were augmented also by an online survey of the constituents' priorities and aspirations.
The workshops conveyed the legal basis for human rights implementation in local governance, while proffering theoretical approaches and examples of cities applying the various related approaches known as "human rights in the city," "a right to the city," "human rights cities," the broader rural and urban scope of "human rights habitat" and historical and current examples of "sanctuary cities."
The project realized two concrete outcomes in the form of a draft charter of principles and an analytical context assessment. The latter suggests actions for improving governance and meeting expressed needs. Local partners selected the terminology of "right to the city" for their local charter, which sets out the legally grounded principles to be further developed in the Greater Beirut's public administration.
The context assessment analyses these principles in actual practice, while proffering related recommendations for the Beirut Governorate, Beirut Municipality and local authorities; Lebanese national government and public institutions; civil society organizations; the private sector; inhabitants of Beirut, including hosts, migrants and refugees; and the international community.Both outcomes are compiled in Right to the City in Greater Beirut: Context Assessment in Light of the Refugee and Displacement Crisis
This joint HLRN-Amel publication offers critical insight into municipal governance in Greater Beirut and how the city copes with its many challenges. It seeks to provide a reference to how established norms and principles of good local governance, as well as the experience of other global cities, could serve as tools and techniques to meet Greater Beirut's current challenges, especially in the current, protracted crisis. It reflects training outcomes, survey findings and deliberations with project participants. The publication also includes the draft "Greater Beirut Right-to-the-City Charter" (in Annex).
See the project webpage here.