HIC Governance: Change at the Top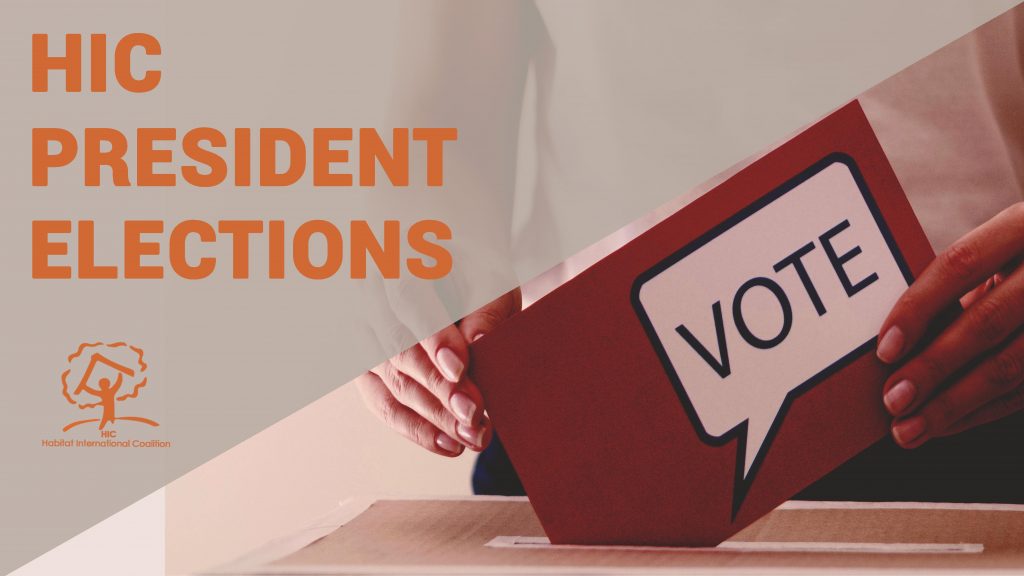 Habitat International Coalition entered 2020 on a wave of change in its leadership with the inauguration of its new President Adriana Allen, taking over from HIC two-term veteran Lorena Zárate, and a talent search for a new Secretary General to replace the outgoing Álvaro Puertas.
Following the presidential-election process between2 July 2 2019 and 8 December 2019, HIC's presidential Election Committee announced that the race delivered Adriana Allen as the new HIC President, with 61% of the vote. Her rival Malick Gaye received 39% of the valid ballots returned. Of the active HIC Members eligible to vote, 71% participated in the election.
At the start of her 2019–2023 mandate, President Allen expressed her gratitude to supporters for their trust and congratulated all their active participation throughout this important exercise in the democratic life of the Coalition. She also expressed appreciate to Malick Gaye for his campaign and life commitment to HIC, and to Lorena Zárate for her extraordinary energy and wisdom in guiding the Coalition over the last eight years as its President.
While pledging to advance the fight for the recognition, defense and full realization of everyone's right to live in dignified and safe conditions, as president, Adriana committed herself to maintaining an open channel of dialogue with each and all of HIC's Members and allies to realize the full collective capacity for action of the Coalition.
Adriana comes to HIC with 35 years of experience as an academic and urban planner, working also with grassroots organizations in almost 25 countries across Asia, Africa, Latin America and the Caribbean. Her work has focused on managing land, housing, water, sanitation, risk and health at the interface between everyday city-making practices and planned interventions. Adriana is based at the Bartlett Development Planning Unit (DPU) at University College London, and her specialization in pedagogy and capacity building are welcome addition to the Coalition's leadership and the development of such aspects of the Coalition's learning functions as the HICademy.
Adriana Allen's ascent to the HIC Presidency coincides with the completion of HIC's extensive evaluation process through 2019, with rich and positive findings to build on.
Immediately after the election of its new president, HIC has entered another cycle of change with a search for a new Secretary-General to head the HIC Secretariat. The position announcement calls for a capable manager who is also passionate for habitat rights and social justice. The new Secretary-General will coordinate the global Coalition from a new Secretariat, with preference for a location in Africa, as explained in the job description.
The HIC Board is currently reviewing applications and expects to appoint the new Secretary-General to replace Álvaro Puertas, whose leadership and competence have been exemplary and much appreciated since assuming his challenging position in 2014.