Land Rights in War-torn Yemen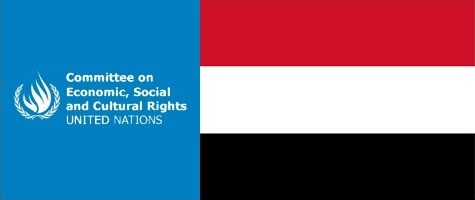 States are required to uphold their human rights obligations in all circumstances, even during emergencies and crises such as civil war. Yemen exemplified that principle as it underwent the third periodic review of implementing the International Covenant on Economic, Social and Cultural Rights (ICESCR). The state party presented its report to the Committee on Economic, Social and Cultural Rights (CESCR), already in March 2014, a year before the Houthi rebels over-ran the country's capital Sana`a. Amid delays due to the conflict, the review process continued through CESCR's February 2023 session.
That most-recent CESCR session was also the first to convene after the Committee's December 2022 adoption of General Comment No. 26 on land and economic, social and cultural rights. The Concluding Observations from Yemen's review also reflects the role land plays in conflict situations and its consequences for the enjoyment of human rights.
Contributing to Yemen's review under the Covenant, HIC-HLRN collaborated with HIC Members from Yemen (All Youth Foundation for Community Development, Yemen Polling Center, Social and Democratic Forum) [مؤسسة كل الشباب لتننمية المجتمع، المركز اليمني لقياس الرأي العام، المنتدى الاجتماعي الديمقراطي] to submit a joint parallel report to CESCR's 73th session (13 February–3 March 2023).
Addressing the Committee's November 2020 list of issues (LoI) and Yemen's December 2022 response to the LoI, the parallel report reviewed four main elements, including (1) an evaluation of international assistance, (2) instrumentalizing the crisis of displaced persons, (3) the over-riding implementation principle of non-discrimination, and (4) the root causes of the conflict and its effect on the realization of the human right to an adequate standard of living in Yemen.
As for international assistance, the humanitarian response plan in Yemen during 2015–2022 has been funded with approximately US$15.3 billion to provide aid to 23.4 million Yemenis, around 80% of the total population in 2022. However, assessments found that resources remain seriously lacking to meet the acute and growing humanitarian needs, especially as the warring parties continue to destroy Yemen`s infrastructure, imposing obstacles, hindering the distribution of humanitarian assistance. Not only does humanitarian aid fall short of the actual priority needs of conflict-affected communities, national institutions' capacity is insufficient to deal with evolving needs.
The joint report recommended that humanitarian assistance align with an institution-building developmental approach within the framework of preventive and remedial human rights obligations. Such a coherent approach would involve reforming the conflict-affected state institutions, in order to end the leakage and misuse of humanitarian assistance, due to corruption and a failure to apply unified administrative standards.
Regarding the displacement crisis, internally displaced persons (IDPs) continue to face multiple challenges. The over 4 million IDPs constitute at least 25% of households in Yemen forced to move at least twice during the eight years of the conflict. By 2022, their number reached 161,000 persons facing catastrophic hunger from food insecurity. Nearly three-quarters of Yemen`s population depends on international humanitarian assistance and protection, and more than 75% of the displaced are women and children.
These victims are often instrumentalized as humanitarian aid is subject to self-interest, political ambition and impunity of multiple parties. Local humanitarian contractors are known to divert humanitarian aid to certain groups of IDPs, but not others. Such was the cases in the 'Aden IDPs camps, as the government support from 'Aden resources has been used to provide the support for IDPs from Ta`iz and Tihama communities, neglecting the needs of IDPs from the southern city of Mukairas, while some influencers control food aid and sell it to non-displaced Yemeni citizens.
The parallel report raised concerns that the Displaced Persons Portfolio has become subject to a political agenda to bring about demographic change in the south. Thousands of displaced Yemenis concentrated in the neighborhoods and suburbs of `Aden and at four camps in Lahj Governorate. Those camps operate in secret as a complex for recruiting mercenaries to carry out terrorist attacks inside Aden or Lahj. Meanwhile, Yemen is experiencing a wave of migrants from the Horn of Africa transiting to the Gulf States, as the number of these African migrants in the first half of 2022.
The joint report also highlighted the crisis of discrimination against the marginalized communities of "Muhamishin" (a.k.a. "Akhdām," or "servants"), they are among the most disadvantaged and impoverished minorities in the world, subjected to discrimination on the basis of origin and work. Other minorities of Baha`is, Ismailis and Christians are deprived of their right to live as equal citizens in the land where they were born, due to systematic discrimination and lack of protection by state institutions. The state institutions have no procedures to collect and generate official and reliable public data on marginalized and disadvantaged groups in Yemen, nor to assess their humanitarian and other needs in light of the tragic conditions, despite the fact that marginalized groups around more than 10% of the population of Yemen; i.e., 3.5 million people.
The report cautioned that state institutions have abandoned their obligations to respect, protect and fulfill the rights of minorities and marginalized people and maintain social cohesion. Many do not possess legal civil documents, exposing them to violations such as eviction from already-substandard accommodation or land, as well as forced recruitment by all parties of the ongoing conflict.
The joint parallel report informed that neither the legitimate and recognized government nor the Houthi armed militias have an active role in combating discrimination against disadvantaged and marginalized groups in Yemen, particularly affecting the rights of marginalized women. They are especially vulnerable to violations of their economic, social and cultural rights and face situations of sexual violence, harassment and even rape and murder, especially at checkpoints set up by armed militias.
One of the joint report's most-important recommendations focused on development of a national land observatory, in which civil society would play a key role in realizing a vision of restorative justice. Such an institution would operate away from political, military, tribal or other parochial interests, contributing to peace and transitional justice at the community level. The land observatory would produce and share knowledge and vital data equitably and play an advisory role to state organs, including successors to National Dialogue Committees. It would develop and apply a methodology to quantify the loss and damage suffered by IDPs and the dispossessed to ensure just remedies for victims of land and housing violations as a result of the conflict situation, including victims of the 1994 war, and the abuses of previous regimes.
Consistent with that recommendation, the CESCR's Concluding Observations called for the state party to "[p]rovide access to effective remedies for victims of economic, social and cultural rights violations in the context of armed conflict and ensure full reparation" (para. 8(c)). With its renewed attention to matters related to land, the Committee was "concerned about the large number of land disputes and cases of land-grabbing in the State party, as a result of the absence of a system for documenting land titles, whether the land tenure is formal or customary." Therefore, CESCR recommended that the State party:
Establish an institution tasked with the oversight of settlement of land disputes;
Develop and enforce a human rights-based property system and an efficient, comprehensive and transparent land registration system; and
Fully comply with the Committee's General Comment No. 26 (2022) on land and economic, social and cultural rights (para. 16(a–c)).
Rarely have CESCR Concluding Observations reflected so clearly the recommendations of a parallel submission. However, in the transition of greater attention to land in the performance of state obligations to uphold economic, social and cultural rights, the Yemen case has provided an early application of the new General Comment in line with lessons studied and learned with HIC-HLRN partners in Yemen.
Photo: CESCR logo and Yemeni flag. Source: HLRN.