Sahrawi Mine Action Coordination Office (SMACO)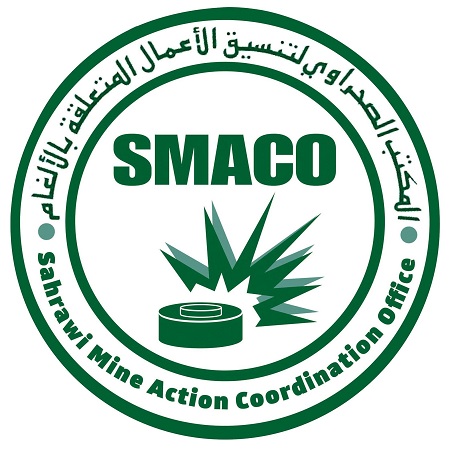 After long cooperation with HLRN, Sahrawi Mine Action Coordination Office (SMACO) joined HIC in 2021 as a defender of land rights in the hazardous context of conflict, occupation and war. SMACO was created in 2013 as the mechanism to coordinate humanitarian landmine action in Western Sahara, east of the berm, in line with International Mine Action Standards.
In cooperation with well-known international organizations, including the UN, SMACO participates in the planning, implementation, follow-up and reporting of all demining activities conducted east of the berm. SMACO is also the point of contact for all reporting of mine and other explosive remnants of war (ERW) accidents and they cooperate for the collection, coordination and dissemination of this information to reach people who are living or travelling through Western Sahara, east of the berm. SMACO is additionally responsible to support and coordinate all other mine-related activities conducted by local and international NGOs, such as the dissemination of mine risk education to the local and nomadic population, as well as the provision of assistance to survivors of mines/ERW accidents.
SMACO's Vision
A developed Western Sahara, from impacts of mines and ERW, where all people, including those affected by mines/explosive remnants of war accidents, enjoy a free and safe life.
Mission
SMACO plans, coordinates, facilitates and follows up all mine action in Western Sahara in accordance with national legislation, local and international standards, taking into consideration the implications of high contamination and the refugee/displacement situation. SMACO mainstreams gender and diversity, humanitarianism and accountability into their operations, with a primary focus on victim assistance and advocacy in addition to the other mine action pillars.
Mission Goals
SMACO seeks to fulfill its mission by:
Establishing a basis for advocacy toward local, national and international partners.
Providing partners with reliable information regarding victims of mine/ERW accidents.
Developing a framework for communicating and upholding the obligations and duties of mine action actors in the territory of Western Sahara.
Applying the legal framework for the rights of landmine/ERW accident victims to remedy and reparation.
Align with UN Mine Action Strategy through independent coordination of mine action activities in Western Sahara, considering the local situation.
Strategic Objectives to Achieve Goals

To accomplish these mission goals, SMACO began by pursing the following objectives:
Establish a sustainable and constant funding of SMACO by 2020.
Implement efficient and effective communication with national and international organizations by 2019.
Establish an effective mechanism for accidents and victims' data collection and sharing it with partners according to the SMACO Data Protection Policy by 2019.
Establish a national employment policy for mine action activities by 2023.
Create a discussion platform (think tank) to establish a national victim rights protection policy by 2022.
Fully implement a professional management structure within SMACO by 2021.
Ensure availability of human resources to comprehensively manage mine action by 2020.
Actions to Achieve Strategic Objectives

Among joint actions of SMACO in collaboration with HIC-HLRN are the development of the communication strategy for advocacy in regional and international forums. to approach local and international actors. This involved a series of hybrid workshops in September 2021 on the theory, practice and strategic planning for advocacy on the subject of victims' remedy and mine action in both the UN Human Rights System and UN Development System. The lessons were grounded in the obligations of the state responsible (Morocco) for the landmine and ERW crisis and its victims in Western Sahara, as well as the linkage of SMACO action with the UN Sustainable Development Goals.
Most recently, SMACO coordinated with HIC-HLRN the publication of the current publication Human Rights to Habitat in Western Sahara: Land, Housing, Population Transfer, Natural Resources, produced in collaboration with Sahrawi Association in the USA (SAUSA).
You can contact SMACO here.