Transitional Justice: Last Resort toEnd Yemen's War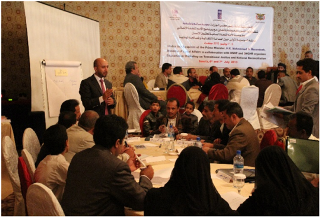 Since 2014, the civil war in Yemen has left over 2.4 million displaced persons who fled their homes, further compounding the priorities of transitional justice that faded away because of the seemingly intractable conflicts. However, each passing day points to transitional justice (TJ) as the last resort for ending Yemen's conflictand repairing the country.
The UN Security Council (SC) concurred with its resolution 2216 [Arabic] of 14 April 2015, emphasizing the need to return to implementing the Gulf Cooperation Council (GCC) Initiative and its Implementation Mechanism, along with the outcomes of the comprehensive National Dialogue conference. It called on all parties to comply with their obligations under international law, including applicable international humanitarian law and human rights law, and to enable a resumption of a peaceful, inclusive, orderly and Yemeni-led political transition process.The SC stipulated that the transition should meet the legitimate demands and aspirations of the Yemeni people, including women, for peaceful change and meaningful political, economic and social reform. The SC also reminded all states of their corresponding duties (paras. 16–17).
Also, reporting on the situation of human rights in Yemen in September 2015, the UN High Commissioner for Human Rights reminded all governments of their obligation to investigate alleged violations of international humanitarian law and international human rights law, including "land-related violations," to bring those responsible to justice and to provide victims with an adequate and effective remedy, including reparations and fulfill of their right to truth(p. 16).
Also related to the land question, in November 2015, UNDP and the Yemeni Ministry of Legal Affairs launched a new study on the role of CSOs in the transitional justice [Arabic] process. The process involves 30 civil society representatives supporting the existing TJ institutions, such as the Land and Dismissal Commission, and contributing to national reconciliation.
HIC-HLRN coordinator Joseph Schechla observed that "These developments provide hope for a break through toward resuming cooperation with local Members and researchers on land reparationsas an element of transitional justice in Yemen." Specifically, HIC-HLRN has been engaged in a US Institute for Peace-supported"Land Reparation as a Component of Transitional Justice and Peacebuilding in Yemen" project since 2014 that seeks to apply HLRN research methods to quantify the actual losses, costs and damages to victims of land grabbing and dispossession. They and their families now are facing complex challenges, as many have lost their land grabbed by the 'Alī`Abdullah Sālih regime, as well as displacement and destruction of their properties as a result of the civil war.
Another important development came toward the end of 2015, when the Houthis accepted the terms of SC resolution 2216.Thus, the GCC Initiative and the National Dialogue outcomes have remained at the core of the UN-led multi-stakeholder peace process.
Although the security situation still hampers free movement across the country, local Yemeni field researchers report their willingness to complete the necessary case studies and submit their collective findings to the Land Commission as subjects for reparations at war's end.
Even in the throes of war, people still plan for a transition to justice.