Local Authorities in Support of Palestinian Rights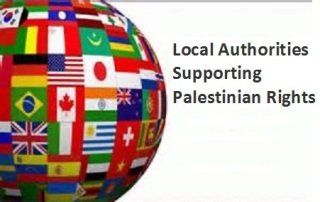 Civil society and social movement participants joined efforts with local authorities to organize a workshop in the context of the World Social Forum (WSF) (25 March 2015) to explore the meaning of practical solidarity with Palestine. The workshop covered common-but-differentiated responsibilities, including the legal obligations of states and their constituent parts (i.e., local government and/or local authorities), to remedy an illegal situation under international law. This included practical examples of cities and local government implementing the principle of nonrecognition and noncooperation with parties that violate human rights in Palestine.
Opening the seminar, Joseph Schechla (HIC-HLRN) reviewed the "self-executing" international law obligations of local authorities to refrain from contracting and procurement arrangements with parties that cooperate with illegal situation such as Israel's colonization and construction of the Wall in Palestine.
Maren Mantovani (Stop the Wall Campaign) presented good-practice examples from around the world, whereby city and federated state governments have implemented their extraterritorial obligations (ETOs) consistent with the global call to boycott, divestment and sanctions (BDS) by avoiding transactions with violating parties.
AntónioZurita of FondoAndaluz de Municipios para SolidaridadInternacional (FAMSI) then delivered a statement from Andalusian Spanish municipalities that already are committed to responsible investment and procurement practices consistent with their ETOs to respect and protect human rights, in particular, in Palestine.
This WSF event followed the December 2014 International Conference of Governments and Civil Society Organizations in Support of Palestinian Rights, at Seville, Andalucia (Spain), on 2–3 December 2014, organized by the UN Division for Palestinian Rights, United Cities and Local Governments (UCLG), FAMSI and la Junta de Andalucía. There civil society and local governments presented a platform for cooperation in the form of the "Olive Declaration" (English, French, Spanish, Arabic).
The "Olive Declaration," called upon local authorities to promote cooperation with Palestine, in general, and Palestinian municipalities and communities, in particular, through the exercise of their obligations, as part of territorial states, under binding international human rights law. Reaffirming this commitment requires principled, ethically responsible and transparent procurement, investment and contracting policies consistent with the principle of nonrecognition of, and noncooperation with entities involved in Israeli violations of human rights and international law. The outcomes of the Local Authorities in Support of Palestinian Rights seminar will contribute to the follow-up of the Seville process.
At the WSF workshop, the civil society and local government participants posed suggestions for widening their participation in the global BDS campaign in cooperation with local authorities and their already-binding obligations to comply with applicable human rights standards. The participants considered issuing a collective statement at the seminar, reflecting participants expressed support for cooperation with local authorities in this process, and recommended specific, coordinated actions, initiatives and public-information campaigns.
The workshop produced several concrete recommendations, including proposals to:
Organize joint conferences of local authorities and civil society with the purpose to adopt and locally apply the principles of the Olive Declaration in all regions of the world;

Create a website with tools for activists and local authorities who want to engage in practical solidarity with Palestine;

Enter twinning/sister-city arrangements with nonrecognized or threatened Palestinian communities on both sides of the Green Line as a form of citizen diplomacy and protection of those communities (especially the communities in the Jordan Valley/E1 and Area C, as well as the "unrecognized" Palestinian villages in the Naqab and Galilee);

Activate twinning/sister-city relationships in the form of public education and reciprocal-exchange activities in cooperation with Palestinian communities, refugee camps and municipalities;

Sponsor local volunteers/"citizens ambassadors" to promote municipal and community solidarity with Palestine in the framework of international law;

Mount sensibilization/awareness-raising programs on Palestine for municipalities on the application of international human rights obligations in public contracting, public procurement and "responsible investment."
Plans for the Seville process website are already in motion. Readers will find updates in future issues of Land Times/أحوال الأرض.
Related articles:
"HLRN @ WSF – Free Palestine," Land Times (January 2013)