New Report: A Pandemic of Violations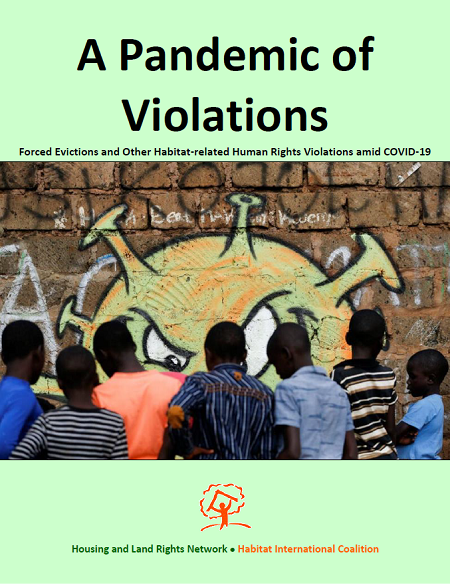 For World Habitat Day and "Urban October" 2020, HIC-HLRN's report from the HLRN Violation Database reveals patterns and trends in housing and land rights violation around the world amid the COVID-19 pandemic. It explores the cases of forced eviction, destruction, dispossession and privatization of housing and land of the most-vulnerable communities during a global crisis and pandemic that leave no one behind. The report focuses on: Minorities, Migrant Workers, Domestic Workers, Slum Dwellers, Rural People, Indigenous Peoples, Refugees, Migrants and Displaced Persons, People under Occupation/Colonization, People Caught up in War, and People Subject to Privatization and Financialization. A Pandemic of Violations concludes with a prospectus for coming out of this pandemic by Protecting Each Other and annexes the global VDB Search Results from 1 January to 5 October 2020 as the basis for this World Habitat Day 2020 analysis.
Download A Pandemic of Violations: Forced Evictions and Other Habitat-related Human Rights Violations amid COVID-19
Photo: Children look at an advocacy graffiti by the Mathare Roots`s youth group, warning against the spread of the coronavirus disease (COVID-19), at the Mathare Valley slum, in Nairobi, Kenya, 19 April 2020. Source: Thomas Mukoya/Reuters.