Land and Civil Society in Sudan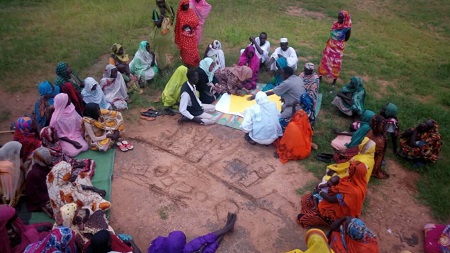 Internally displaced persons (IDPs) in the Darfur region of Sudan are estimated at some 1.64 million (OCHA, 2019). However, it is still not possible to assess the numbers of IDPs living in rural or urban settlements outside of the IDP camps as registration process is inadequate (OCHA, 2018).
Observers report that many IDPs are unlikely to return to their points of origin, even seasonally. Instead, they tend either to move to urban areas for better security and services, or to more-fertile rural areas. Some IDPs continue to move to urban areas, but farm seasonally elsewhere. Spontaneous returns are underway, but often the returnees' land has already been taken over by other groups. The government has started to make land available so that returnees can settle, and this resettlement creates new areas for conflicting interests and rivalries with the host communities. Accurate figures on current IDP locations and better information about returnee intentions are still needed for forward-looking strategic planning at the regional level.
Complex and contradictory land-administration laws and institutions combine with weak organizational capacity, inadequate equipment, poor coordination and financial constraints are among the factors impeding solutions to land-based conflict and its impacts that have mounted over the past decade. In addition, Native Land Administrations and customary tenure are being superseded by colonial and post-colonial statutory and central government administration processes that favor private interests and investors over IDPs. Differences in interpretation of the Doha Agreement remain, with Darfuris understanding promised land-use rights to mean freehold tenure, but the state's legal set-up does not allow freehold tenure. However, usufruct of land, even if unregistered, is still protected by law. Some laws such as the Investment Act of 1999, in particular, have generated conflicts over the legitimacy of the legal entities that have access to, and control over land.
Key stakeholders in the Darfur's land sector include federal government institutions, Darfur state ministries, Native Administrations, IDPs, civil society organizations, private developers and other actors who are involved in different aspects of formal, traditional or informal land administration, including dispute resolution. All stakeholders are needed to support tenure security and the housing, land and property (HLP) rights of people voluntarily returning to/in Darfur and of other vulnerable people such as IDPs, refugees, women and youth. However, local civil society's role is so far limited to emergency humanitarian and charity-based interventions, and not yet disposed to contribute to durable solutions and needed policy development.
The Juba Agreement
Interim Government has the task of preparing a new constitution. The October 2016 National Dialogue Conference approved recommendations to inform emerging policies, and could also influence constitutional amendments, include several land-related recommendations. However, the most-urgent framework for governance in Sudan today is the widely-hailed Juba Agreement of 3 October 2020. That instrument provides the context for new forms of statecraft to follow the revolutionary uprisings of 2019.
The priority processes under the Juba Agreement call for security arrangements, distribution of authorities and revenue, transitional justice, administrative and federal structures, civil service reform, reconstruction and development, environment, but little about the all-important administration of land resources. The list of shared powers has 28 subsections, and includes a broad range of issues, and includes resolving land disputes (Article 10.7) and management of internal cross-border water resources (Article 10.17). On transitional justice issues, the Darfur Agreement also provides that some land issues may also be resolved through "traditional justice" (Article 23, Section 3). This will include disputes within or between tribes, on the condition that they do not fall under the jurisdiction of the ICC, the Special Court for Darfur or the Truth and Reconciliation Committee. The Juba Agreement provides that, among the means of redress to be applied, parties should have the right to negotiate and that witnesses should protected.
Chapter 2 addresses the Darfur Peace Agreement and the five states of the Darfur region. Issues include power sharing, revenue sharing, permanent ceasefire, transitional security arrangements, transitional justice and "compensation." Chapter 3 deals with the Two Areas Peace Agreement (Blue Nile and Kordofan Agreement). However, the specificity on matters of transitional justice, including reparations for victims in Darfur, Blue Nile, South Kordofan and West Kordofan remains to be established.
Civil Society Needs and Challenges
In this otherwise-hopeful transitional scenario, many needs and challenges remain. Many of these call for active and competent civil society engagement and requisite capacity to validate and uphold the justice-based outcomes. The following issues should directly concern Sudanese civil society in the transition:
IDPs need to return to rural areas with both a house and a small subsistence farm;
The size of the sites allocated to IDPs in camps is inadequate; i.e., much smaller than the minimum national planning standards of 200 m2;
Coordination and cooperation between and among the government bodies are insufficient;
Policies and strategies need a monitoring and evaluation and tracking framework that is conflict sensitive, builds peace and limits further conflict;
Inadequate recognition of the customary land administration system and the role of Native Administrations under Sudanese law;
State and local planning authorities are weak and lack capacity (but North Darfur has a developed structure plan);
Efforts are needed to re-plan and upgrade IDP camps, including with regularized urban plans;
The Native Administration must carefully manage IDP claims on customary land where host communities already live;
Traditional land settlements and decisions are unwritten and must be recorded (with elders);
10.Traditional dispute resolution does not always adhere to human rights principles (e.g., disfavoring women);
11.Leadership, strategy and partnership are the principal enablers needed for IDP returns;
12.New regulations and law are needed to allow exceptions in urban planning standards and current restrictions to secure land tenure and prioritize IDP solutions;
13.All parties need to know and think more about the full range of legitimate tenure options;
14.Due to the lack of official land-use plans and policies for land allocation for private investment, private-sector actors have been acquiring land through non-procedural means;
15.The supply of registered land is linked to people who have access to, and personal "connections" to the official system;
16.Government needs to strike a balance among foreign investment in agriculture, the land rights of customary occupants, the role of Native Administration, and the government's wish to guarantee land tenure security for cash investment,
17.Women's and men's land rights are not treated equally and vulnerabilities abound (e.g., administrations of the camps do not have statistics on the numbers of women-headed households);
18.Investors are involved in land grabbing and vulnerable people, particularly women, are more likely to lose lands, homes and livelihoods as a result;
19.Few land rights are registered in many regions, and most of them are found only in the capital cities. Registration processes are long and complex. Therefore, alternative land tenure arrangements are needed to build on the existing statutory system and to allow incremental steps from an entry-level or starter title through ultimately to registered land rights, given that the Doha Agreement promises registered land rights;
20.Joint State Liaison Functions (SLF, 2019) have identified four priorities: rule of law, human rights, livelihood and durable solutions/service delivery;
21.Civil society organizations working on land issues in Darfur are limited in number and capacity.
Civil Society Objectives
In order to meet these challenges, a vibrant and competent civil society is needed to:
Contribute to the transition from the short-term, emergency humanitarian phase toward longer-term, institution-building sustainable development;
Be conversant with the norms, guidance and tools of argument provided in international legal and policy frameworks;
Enhance the principal enablers of leadership, strategy and partnership needed for IDP returns.
Achieving these objectives calls for CSOs to:
Develop capacity on land-related issues;
Transition from work in the fields of (short-term) humanitarian assistance and relief toward; resettlement, reparations and longer-term sustainable development approaches within the framework of human rights;
Acquire knowledge about international frameworks, including state obligations under treaty.
Engage in a more-detailed assessment of their current competences and needs.
In light of these needs and objectives emerging from its recent literature review, HLRN is working with HIC Members and allies in Sudan to develop plans for supporting local civil society's capacity development to enable their constructive engagement in Sudan's transition. With a view to applying human rights norms as the tools of statecraft, these plans and proposals will evolve and appear in the pages of Land Times/أحوال الأرض.
Photo: IDPs meeting to discuss resettlement prospects. Source: UN-H