"Neom" Project: What New Saudi Future?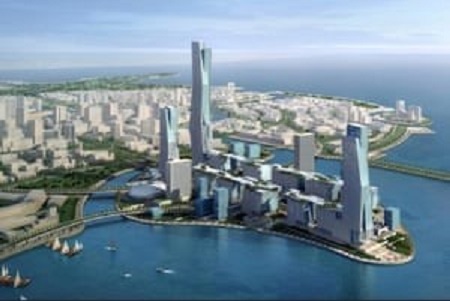 The preparations for a half-trillion-dollar futuristic city-state in Saudi Arabia's Tabruk Province has developed into a full-blown international controversy.
Forming an integral part of Muhammad Bin Salman's Vision 2030 plan for an ultra-modern and diversified economy, the planned metropolis of "Neom" takes its name from a mash-up of the Greek word for new, "νέος" [n(y)ū]) and the Arabic for a future "مستقبل" [mustaqbil]. It's design includes a huge artificial moon, glow-in-the-dark beaches, flying drone-powered taxis, robotic butlers to clean residents' homes, data-gathering network, including drone and facial-recognition technology covering the entire city-state, and a Jurassic Park-style amusement complex featuring animatronic lizards, . Neom is billed as the ultimate "smart city," smack-dab in the heart of the Middle East.
Alien as that may seem, the real controversy has emerged from the inevitable forced eviction of some 20,000 members of the indigenous Huwaiti [حويطي] community, which has inhabited the region for eons, long before the British-sponsored consolidation of the Kingdom of Saudi Arabia 90 years ago.
The Huwaitis do not want to move to make way for the new city-state that is planned to report directly to the Saudi king. Their opposition to both their population transfer and royal payment as "compensation" led to mass arrests in March 2020 and the Saudi security forces' killing of tribal spokesman Abd ul-Rahim al-Hawaiti on 13 April 2020.
The resulting public outcry from the murder has reached international proportions with civil society calling [AR] for international partners in the project to withdraw on human rights grounds. Targets of the call to extraterritorial human rights obligations have been directed especially at the U.S. Boston Consulting Group as well as London-based Oliver Wyman McKinsey & Co.
Adding to the regional concerns are the Neom projects pursuit of a transport channel to by-pass Egypt's recently expanded Suez Canal through a proposed "Red-Med" railroad link through Tel Aviv. That eventuality also would signal the normalization of Saudi relations with Israel, the only remaining colonial regime in the Middle East.
Within the kingdom, critics observe that the repression and pursuant expulsion of the Huwaitis reflect a lack of regard for tribal communities long dominated and suppressed by the Saudi state. This case also invokes the wholesale destruction of the Eastern Province town of Awaima in 2017, which caught the attention of UN human rights experts who denounced the destruction and the ethnic cleansing and further repression of its minority inhabitants.
As for the ongoing efforts to construct the futuristic and "smart" city of Neom, an outspoken activist and member of the tribe living in London, Alia Hayel Aboutiyah al-Huwaiti observed, "It's definitely not for the people already living there! It's for tourists, people with money, but not for the original people living there." "For the Huwaitat tribe," she says, "Neom is being built on our blood, on our bones."