Global Forces against Land Defenders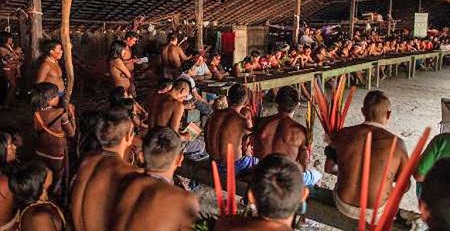 The world is witnessing the convergence of two global phenomena: land grabbing and the COVID-19 pandemic. This deadly combination forms the climax of a long story of communities vulnerable to the human onslaught of land grabbing at the expense of land-based communities and entire peoples. Brazil exemplifies this double threat as the country with the second-most COVID-19 fatalities and spreading cases worldwide, in addition to a spate of murders of land defenders in the country. However, like the pandemic, its reach is global.
Soon after garimperos (gold prospectors) murdered two Yanomami youth, Original Yanomami, 24, and Marcos Arokona, 20 while invading Yanomami Land in Roraima State, a judge ordered all 20,000 miners out of Yanomami Park, in the much-invaded Amazon region. However, the order was not in response to the spate of garimpero murders of indigenous land defenders, but to a June 29 petition filed by a Brazilian indigenous rights organization and six political parties, asserting that COVID-19 could lead to a "genocide" of Brazil's already at-risk indigenous population.
Brazil ended 2019 with the murder of Paulo Paulino Guajajara, a Guardian of the Amazon deterring illegal loggers, who killed him last November. Just one month later, on 7 December 2019, attackers murdered Raimundo Guajajara and Firmino Guajajara and, on 31 March 2020, another Amazon Guardian, Zezico Guajajara, was shot dead. His killing was the fifth of land defenders in only six months.
It was amid this trend that the acclaimed "populist" Brazilian President Jair Bolsonaro declared the Amazon open to mining in February 2020, drawing intense domestic and international criticism for deliberately refusing to protect the global environment and Guardians' territory in the eastern Amazon region. This act followed the president's often-stated support for farmers and loggers working in the delicate and globally vital Amazonian ecosystem, while belittling environmental campaigners and slashing the budget of Brazil`s environmental agency.
The pattern of attacks on indigenous people in Brazil has not been limited to remote regions. Also in February 2020, attackers committed the gun-shot murder of the 53-year-old Tucano chief, Francisco de Souza Pereira, in the Urucaia indigenous community in the Nova Cidade neighborhood of Manaus, capital of Amazonas State and one of Brazil's cities hardest hit by COVID-19.
Nor is this trend limited to Brazil. It was in northern Peru that a criminal gang murdered José Napoleón Tarrillo Astonitas for an opposing land mafia seeking to clear land in the Chaparrí Ecological Reserve, according to local witnesses
Saudia Arabia also has become a notorious case in point, especially since the 2016 execution of antidiscrimination advocate Sheikh Nimr al-Nimr and the destruction of his hometown, al-Awamiya, in Qatif Province. The latest chapter in a long saga of royal land confiscations now turns to the Neom mega-city project. The execution of crown prince's Vision 2030 project sparked peaceful local opposition of the local inhabitants, which the authorities countered with violence, including mass arrests in March, and the killing of community leader Abdul-Rahim al-Huweiti on 13 April.
Elsewhere in the Middle East, Israeli settler attacks against indigenous farmers have punctuated the military occupation West Bank and echoed the sniper murder of farmers, including Amr Samour and Ibrahim Ahmad al-Arrouqi, in the context of the Great March for Return in blockaded Gaza. Fallen land defenders ground collective Palestinian memory that is the subject of the annual Land Day 30 March and commemorative joint statement, marking Land Day, which commemorates Israel's killing of six Palestinians citizens of Israel in 1976 and the injury of 70 other land defenders. On 30 March 2020, the second anniversary of the Great March of Return, counted Israeli forces having killed 214 Palestinians and wounded 18,764 more who had participated in unarmed demonstrations, calling for the implementation of their right to return to their land since Israel's ethnic cleansing of Palestine in 1948.
Also in Palestine, amid the pandemic in April, Jewish settlers violently drove Palestinian farmers and shepherds out of farmlands and pastureland, prevented from access to their newly despoiled crops. The prospect of Israel's annexation of colonized portions of the West Bank has encouraged variously motivated waves of increased settler attacks to occupy more Palestinian territory in the current political context.
The Indian occupation-turned-annexation of Kashmir parallels the Israeli bid to annex occupied Palestinian territory. That policy of India's Hindu-supremacist BJP government mirrors its military ally Israel in targeting indigenous Kashmiri habitat to extend its demographic-manipulation and population-transfer plans.
In the wee hours of 19 May, Jammu and Kashmir police looted cash, jewelry and other valuables from several homes in the dense Srinagar neighborhood of Kanimazar as they carried out an operation to eliminate militants indigenous defenders from the area. Over a dozen homes were burned down and many others were alleged plundered by security forces involved in an operation that resulted to the killing of two Hizb ul-Mujahideen militants Junaid Ahmed Sehrai and Tariq Ahmed Sheikh from Srinagar and Pulwama localities, respectively.
The Indian campaign also targeted Kashmiri apple farmers to prevent the distribution of their produce outside the zone of Kashmir, blockaded since 2019. Indian-supported agents attacked and killed truckers and apple traders as part of a reported terror campaign.
Khadim Hussain Dahot, human rights defender and director of HIC Member organization was attacked outside his home in Sindh Province, Pakistan. The mob of unidentified men who attacked the housing and land rights defender accused him of inciting sectarian violence and committing "blasphemy." Dr. Dahot is a noted lawyer and human rights advocate in Pakistan and managing director of Sewa Development Trust Sindh (SDTS), the HIC Member organization that works to empower and provide education and healthcare to underprivileged women, youth and children. His case sparked a HIC campaign through October 2019 to Stand Up for the Defenders of Our Habitat Rights.
These attacks and irretrievable losses are not far from the memory of Turkish environmentalists murdered in October 2017. Beekeepers and environmental defenders Ayşin and Ali Büyüknohutçu were murder in Finike, after successfully campaigning to shut down an environmentally destructive mine earlier that year.
This crime follows the high-profile 3 March 2016 assassination of Berta Caceres an Indigenous rights and land defender from Honduras who tirelessly campaigned against a widely unpopular dam project once funded by the World Bank's financial lending arm, underscoring yet again the violence often associated with international development projects.
The community of Valle del Río San Pedro, in southwestern Mexico, received death threats on 19 May 2012, ordering them to vacate their homes. Members of the community have previously been killed, and they are at grave risk of further attacks. On 14 April 2012, Raimundo "Cabeça" Alves Borges was murdered after being ambushed close to his home in Terra Bela settlement, in the city of Buriticupu, in Maranhão State, Brazil, the country's most violent land conflict state. According to the Comissão Pastoral da Terra—CPT (Land Pastoral Commission), Raimundo Alves Borges is the 247th fatal victim of violence in the rural areas in the country in the past 25 years.
Structural Causes and Consequences
While a global pandemic is forcing us to acknowledge that "we are all in this together," the patterns in the loss of land and land defenders, including indigenous people and small-scale farmers, compel us to step back to a higher vantage point and critically reconsider the features of globalism and policy coherence. At the same time, researchers and policy analysist are recognizing that food companies not only threaten environmental activists, but also promote forestation-free supply chains, contributing to this double threat. Commercial farming of some everyday food ingredients such as soy and palm oil are driving massive deforestation in tropical countries, including Brazil, Colombia and Indonesia.
Between 2015 and 2016, the killings of land defenders had tripled. In 2016, average killings per year jumped from 55 annually in 2002, to killings recorded at 185, in 2016. That development occasioned Oxfam International to proclaim this the "era of global land rush," characterized by murder and eviction. In addition to neocolonial practices of India, Morocco, Turkey, Russia and Israel, each illegally occupying other peoples' land and territory, the global norm has been found to align with this model, while World Bank policies inevitably also imperil land defenders.
By contrast, global civil society has called for solidarity with small-scale food producers in this era, while the UN actively invites corporate capture of food systems in an upcoming 2021 Food Systems Summit. Before that happens, our common humanity must be given priority, especially in a complex global pandemic that combines all threats to our survival together.
Photo: A meeting between Yanomami and Ye'kwana leaders to discuss common defense against garimperos and COVID-19. Source: Victor Moriyama/ISA.