HLRN's Women's Land and Home Project Expands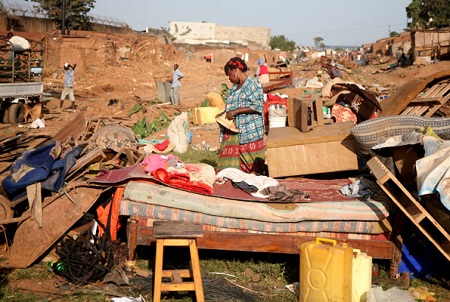 HLRN's project "Assessing Impacts of Women's Dispossession from Land and Home" has concluded its first phase with an on-line workshop that brought together participants from India, Kenya, Uganda, Zambia and Zimbabwe, along with staff from the HLRN Cairo office, for knowledge exchange and planning of steps going forward. The workshop, initially scheduled to take place in Kenya in March 2020, was postponed and held virtually due to the COVID-19 pandemic.
During the workshop, partners involved in phase one of the project (HLRN-India, Mazingira Institute and Pamoja Trust, in Kenya, and Shelter and Settlements Alternative: Uganda Human Settlements Network) presented project summaries and lessons learned from applying HLRN's Violations Impact Assessment Tool (VIAT) to their strategically chosen cases. Newcomers to the project, Zimbabwe People`s Land Rights Movement (ZPLRM) and Civic Forum on Housing and Habitat (Zambia), also shared on-the-ground contexts of their respective countries.
Participants identified several themes to consider going forward, including links between women's health and home, deeper consideration of how to address impacts of potentially harmful customary practices, opportunities and threats of the COVID-19 crisis, legal routes, advocacy and redress, perceptions of men, interrogating concepts of "autonomy" and the values of social bonds. In addition to these themes, partners discussed plans for specific research and advocacy activities that could be undertaken in each country and in global forums during phase two of the project in 2020 and beyond.
The End-of-project Phase One Report provides a comprehensive summary of discussions that took place during the workshop, including themes to consider going forward and prospects for activities this year.
Now in phase two, the Women's Land and Home project has expanded activities with HIC Members in Zambia and Zimbabwe. The HLRN Cairo office is supporting local partners Civic Forum on Housing and Habitat Zambia and Zimbabwe People`s Land Rights Movement (ZPLRM) through activities in both countries currently underway. These include a literature review on women and land in Zimbabwe already produced as a background reference and living document within the project. While some activities — such as the normative training workshops — will be adapted to meet the current pandemic-related restrictions on travel and large gatherings, the comprehensive set of activities envisioned within the project are all planned to go ahead.
The HLRN Cairo office carried out in-depth training workshops on the applicable norms and tools and techniques for extensive violation-impact assessments in Kenya and Uganda before local application of the VIAT impact-assessment method. HLRN will pursue similar pedagogic methods in Zambia and Zimbabwe. HLRN-India managed its part of the project from New Delhi within multiple constraints. All workshop materials to date, including literature reviews, normative training material, technical (VIAT) training material, workshop reports, a national typology of women's housing and land rights violations, illustrative cases from India, Kenya and Uganda, analyses of full application cases, genderized survey tools and the VIAT and project reports, are available on HLRN's Women's Land and Home project page.
Photo: A woman gathers what remains of her property after Kampala Capital City Authority (KCCA) her at Namuwongo in May 2015. Source: Abubaker Lubowa.