The Latest on the Climate Emergency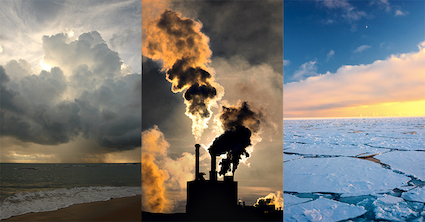 Climate scientists from 195 countries have newly warned that actions to avoid climate catastrophe have been too little and too late. This failure is the subject of two reports from the UN's Intergovernmental Panel on Climate Change (IPCC) over the past eight months. A new, third report presents what we can do to reverse the damage. Limiting global warming to a target of 1.5°C by century's end is beyond reach, unless big changes happen. Fossil fuels must be reduced and alternatives need to be developed. Cities need to be smaller and more walkable, and industry must change production methods. Planting trees and developing low-emission agriculture systems would help to pull carbon dioxide from the atmosphere, but switching to these systems can be costly. The report concludes that governments are resisting needed action, even though the world has the cash to pay for the changes.
Wealthy countries are largely responsible for much of the damage caused by climate change, but developing nations are affected the most. A risk of unthinkable famine in East Africa faces 28 million if the rains do not come again this year. Already, 21 million are starving due to conflict, flooding and a severe two-year drought. Over 13 million people across Ethiopia, Kenya and Somalia have been displaced in search of water and pasture, just in the first quarter of 2022. Millions of others had to flee their farmlands and homes amid conflicts especially around Ethiopia, where 9.4m people now need urgent humanitarian aid.
The IPCC now says that, to avoid climate disaster, greenhouse gas emissions should be stopped from rising any further before 2025.
The UN Special Rapporteur on human rights and the environment, David R. Boyd, has identified several "gems" from the IPCC reports that speak to the core objectives of HIC-HLRN's work on land and human rights:
There is high confidence that restoring land access and rights via transfer of formal land titles to Indigenous and local communities improves biodiversity conservation and carbon sequestration (WGII, p. 5–60).
On relocation: Full participation of those affected, ensuring human rights-based approaches, preserving cultural, emotional and spiritual bonds to place, and dedicated governance structures and associated funding are associated with improved outcomes (WGII, p. 18–157).
Despite their importance, the survival of Indigenous Peoples in the Amazon is on the brink in the wake of increasing deforestation, land conflicts and invasions, cattle ranching, mining, fire incidence, health problems, and human rights violation (WGII, p. 8–17).
…environmental and health consequences of climate change, which disproportionately affect low-income countries and poor people in high-income countries, profoundly affect human rights and social justice (WGII, p. 10–103).
Every human has the right to dignified decent life, to live in good health and to participate in society (WGIII, p. 5–22).
Human rights may be a powerful tool for organizing and unifying adaptation decision making, especially for the most vulnerable (WGII, p. 17–80).
HIC has long pushed for climate justice as a human right. On World Habitat Day 2021, HIC published a statement calling for five key actions, aligned with HIC's Habitat Voices Manifesto, to achieve climate justice:
Profound economic redistribution and access to international climate finance and citizen's control over climate financing mechanisms;
Recognition of differences and invisibilities, as the impacts of climate change are global, yet highly unequal, and exacerbate existing inequalities and produce new ones;
Parity in political participation;
Human rights habitat, not war; and,
Mutual care, solidarity and social responsibility.
See the video introduction to the newest IPCC report.
Read the three IPCC reports, including technical reports and summaries for policymakers:
Working Group III contribution to the Sixth Assessment Report of the IPCC, Climate Change 2022: Mitigation of Climate Change (April 2022):
Working Group II contribution to the Sixth Assessment Report of the IPCC, Climate Change 2022: Impacts, Adaptation and Vulnerability (February 2022):
Working Group I contribution to the Sixth Assessment Report of the IPCC, Climate Change 2021
The Physical Science Basis (August 2021):