Tanzania: Maasai Face Eviction for UAE Tourism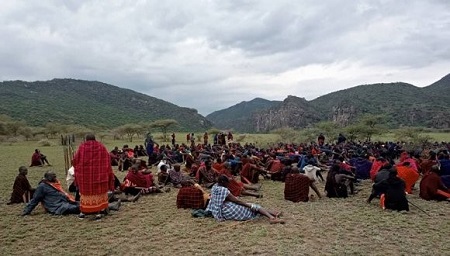 The Maasai (mɑːsaɪ') are a Nilotic people inhabiting northern, central and southern Kenya and northern Tanzania, speaking an eastern Sudanic language (usually called Maa). They are among the internationally best-known local population, due to their residence near the many game parks of the African Great Lakes, and their distinctive culture and dress. They are one of the very few indigenous groups who have retained most of their traditions, lifestyle and lore.
In common with the wildlife with which they co-exist, the Maasai need a lot of land. Unlike many other ethnic groups in Kenya and Tanzania, the Maasai are semi-nomadic and pastoral, making their living by herding cattle and goats who range along the Great Rift Valley of Kenya and Tanzania, the Samburu of Kenya, and the semi-pastoral Arusha and Baraguyu (or Kwafi) of Tanzania.
The Maasai have struggled to preserve their territory since European colonizers arrived in the late 19th century, but their spears were no contest for armed British troops and their lawyers. In 1904, the Maasai signed a first agreement, losing the best of their land to British settlers.
Seven years later, in 1911, a small group of Maasai sign a very controversial agreement, giving up their best northernmost lands (Laikipia) to white settlers. With these two treaties, the Maasai lost about two-thirds of their lands and were relocated to less fertile parts of Kenya and Tanzania.
Now, over 70,000 Maasai in Loliondo, Tanzania face renewed eviction threat to make way for safari tourism and trophy hunting. On 11 January 2022, the Tanzanian government renewed efforts to seize 1,500 km2 of legally registered village land in the Loliondo Division of Ngorongoro District from Maasai pastoralists. The government plans would create a wildlife corridor that would be used for trophy hunting and tourism by the United Arab Emirates (UAE)-based Otterlo Business Company (OBC), which runs hunting excursions for the country's royal family and their guests.
Large groups of Maasai have held protests and local leaders have issued a statement in an attempt to stop any further demarcation of their lands. On 11 January 2022 the Arusha Regional Commissioner met with village chairmen and councilors in Loliondo Division of Ngorongoro District to inform them of the government's decision to designate the 1500 km2 area of their legally registered village land as a wildlife corridor. At the same time, the Ngorongoro Conservation Area (NCA) has advanced multiple land-use management and resettlement plans to displace an eventual 80,000 Maasai. This population-transfer project was reportedly devised in collaboration with the UNESCO World Heritage Centre, the International Union for the Conservation of Nature, and the International Council on Monuments and Sites. The Tanzanian government aimed to begin removing the Maasai residents by the end of February 2022.
If carried out, the creation of a wildlife corridor would result in the Maasai losing ancestral land vital to sustain their pastoral livelihoods. This latest threat is a continuation of past efforts to evict Maasai from their land in Loliondo at the pleasure of UAE tourists by a company with a background of several violent evictions of the Maasai, burning of homes, and the killing of thousands of rare animals in the area.
Past violent government-led evictions, livestock theft, property destruction and harassment of Maasai from Loliondo in 2009, 2013, and 2017. This resulted in four Maasai villages (Ololosokwan, Oloirien, Kirtalo, and Arash) mounting a case before the East African Court of Justice (EACJ). In September 2018, the EACJ granted an injunction against further eviction. However, the renewed attempt to seize this same 1,500 km2 of land in question appears to be in blatant violation of the court's ruling.
In an organized protest and at great risk of reprisal from government Tanzania Wildlife Authority (TAWA) rangers, on 13–14 January 2022, customary leaders, village chairs, ward councilors and women's representatives from villages with land in the 1,500 km2 gathered in Oloirien village and signed a statement of adamant refusal to leave their lands. With the backdrop of historic dispossession and its consequences, the Maasai living in the NCA understand the government's resettlement plan threatens their continued survival.
However, Some observers report that the community risks division under mounting external pressure. However, as of this writing, the Ngorongoro Maasai continue to resist their demise under eviction and permanent displacement from their lands.
While Rainforest Rescue and the Oakland Institute already have mounted a petition campaign to oppose this deprivation of the Maasai in favor of UAE poachers, the local communities continue to call for international support and an immediate end to displacement and evictions.
See also Oakland Institute reports:
Losing the Serengeti (2018)
The Looming Threat of Eviction(June 2021)
Previous reporting from HLRN News:
Tanzania: Evicting 70K Maasai for UAE Tourism
Maasai Tribe Facing Another Eviction
Tanzania: Safari Tourism Evict Maasai en Masse
Kenya: Village Struggles with Industrial Giant
Tanzania: Losing the Serengeti
Tanzania: Maasai Losing Lands to Tourism
Five Alarming Land Grabbing Cases
Tanzania: Forced Evictions of Loliondo Maasai
WB Retreat from Indigenous Rights
Photo: Maasai pastoralists protesting in Loliondo, January 2022. Source: Oakland Institute.