Urgent Action: Tibet Land Defenders Imprisoned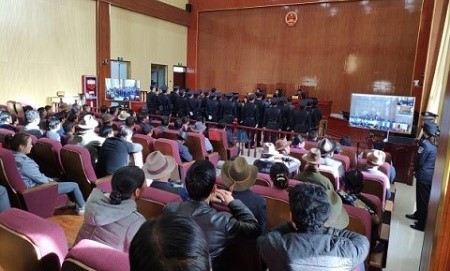 In May 2019, a Chinese court sentenced nine Tibetan land defenders to prison terms ranging between three and seven years for "participating in 'underworld' activity." In response, the Tibetan Centre for Human Rights and Democracy (TCHRD) along with HIC-HLRN launched an Urgent Action campaign to bring attention to this injustice and urge the Chinese government to release the activists and halt all land-related violations.
The men in question were detained in July 2018 before being formally charged in August of the same year. The Rebkong (Chinese: Tongren) County People's Court in Malho (Chinese: Huangnan) Tibetan Autonomous Prefecture, Qinghai Province, in the Tibetan region of Amdo ruled that they had created an "illegal organization" of 24 khagovas (literally "heads" or "leaders") to control the "two committees" of the village and usurp "grassroots political power" by "taking over the duties of the 'two committees'." The court added that the nine "ringleaders" of the organization "maliciously obstructed the government's land acquisition work and normal construction operations, committed serious crimes that constitute a crime of gathering people to disturb social order."
The nine Tibetans are signatories to a February 2017 petition, signed by 24 people in total, demanding the return of Horgyal village land that was expropriated by government for the construction of three brick factories in exchange for lease payments to the village. The government maintained payments to the village for seven years after the works were closed down in 2011, and then stopped, prompting villagers to organize to demand the return of their land. The "organization" referred to is a long-running campaign by villagers to reclaim community land that local authorities had appropriated for a failed business enterprise and subsequently abandoned since 2011. It is believed that these arrests are intended to suppress the campaign.
Central Chinese authorities pressed charges against the nine under a law introduced in February 2018 by the Tibet Autonomous Region Public Security Department, which criminalizes activities such as advocating economic freedom, the human right to livelihood, environmental protection and cultural rights; community fundraising or providing donations to the "Dalai Clique" (supporters of the Dalai Lama). The law seeks to end the role and influence of indigenous leadership systems in mediating community conflicts and resisting land grabs, demolitions, infrastructure projects and other related development projects. These arrests mark the first criminal case in Rebkong County People's Court applying the new law.
Since 2001, HIC-HLRN, has recorded at least 480,417 persons as subject to violations of land and housing rights in Tibet. Tibetan Center for Human Rights and Democracy and HIC-HLRN call for the immediate release of the nine Tibetan prisoners and a judicial review of the court's verdict.
HIC-HLRN and TCHRD call upon the Chinese authorities to:
Immediately release the nine Tibetan prisoners in the Rebkong case and conduct a judicial review of the court proceedings and verdict.
Undertake a thorough review of PRC laws, regulations and practices in order to remove vague references to "extremism" and the unclear definition of "separatism" that lead to the criminalization of peaceful civic and religious expression and the criminal profiling of minorities, including Tibetans.
Immediately halt all expropriations, forced evictions, non-voluntary resettlement, relocation or rehousing affecting Tibetan urban and rural inhabitants, as well as nomadic herders from their traditional lands, and carry out meaningful consultations with the affected communities, in order to examine and evaluate all potential impacts and available alternatives to displacement that does not fully comply with the established international human rights standards, including CESCR General Comment No. 7 (1997) on the right to adequate housing: forced evictions, and provide reparation for victims of that gross violation.
Ensure that laws and their enforcement are consistent with the state's human rights treaty obligations and that effective monitoring mechanisms and sufficient safeguards protect against abuse.
Prevent and prosecute acts of torture and ill-treatment, especially those committed against members of ethnic minorities, including by improving their access to lawyers and fair trial.
Guarantee the right to appeal in domestic courts for the affected individuals and households, and provide effective legal remedies and adequate reparations for those subject to forced eviction or dispossession.
Investigate and sanction any allegations of abuse or harassment during such incidents, whether inflicted by private or state agents.
Ensure the ability of ethnic minorities to conduct peaceful political expression without violation of their corresponding human rights.
Click here to support the campaign. Your participation will send emails on your behalf to the authorities in Chinese-occupied Tibet, urging them to take the recommended actions to respect human rights, as they are obliged to do under international law and their own Constitution.