New EU-Morocco Fisheries Agreement:Trade at the Expense of a People's Self-determination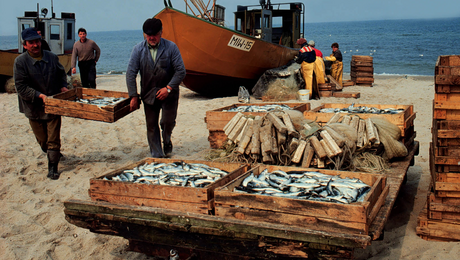 The European Parliament has flouted the principles of international law and human rights, reversing its own decision three years ago and entering into a new and controversial four-year fisheries agreement with the Moroccan government. The European Parliament rejected extending the previous arrangement in 2011, because it did not clearly reflect the interests of, or benefits to the people of occupied Western Sahara. Nonetheless, on 10 December 2013, the European Parliament agreed to renew the fisheries agreement for another four years, and allow 126 fishing vessels from 11 European countries to trawl the territorial waters of Western Sahara, which remain under Moroccan control since 1975. In exchange, the EU will pay Morocco of €40 million euros annually.
An EU representative justified the new agreement as " This is an excellent deal for both sides" [EU and Morocco] He added, "Morocco will have to prove that this money is invested in a way that benefits the Sahrawi population." in the interest of all parties, as it would require the Moroccan government to submit reports on its financial benefit to Western Sahara residents and the development of the region. The adoption of the new protocol passed with a simple majority of 310 votes to 204, with 49 abstentions. This split vote confirmed that opponents of the protocol remain, as it is affront to the provisions of international law by not excluding the territorial waters of Western Sahara from the agreement, as well as the failure to consult the Saharawi people about the renewal of the agreement.
It seems that the strategy of fishing for money will continue to prevail in the context of the exploitation of major industrialized nations' need for the production of southern Mediterranean and proximate African countries, to reduce the overexploitation of fishing European fishing grounds, and to bend to pressure from Spanish ship owners affected by the agreement rejection since 2011.
Also standing to gain are the companies belonging to the Moroccan royal family's conglomerate ONA, including the extractivist company MarONA, fishing for exports to EU countries without regard to the popular will of Western Sahara. Experts acknowledge that 71% of the resources extracted under the EU-Morocco fisheries agreement will be from territorial waters of the Western Sahara, under Moroccan occupation.
These violations emphasize the need to activate and promote the Maastricht ETO Principles for the respect, protection and fulfillment of human rights, especially economic, social and cultural rights, in trade cooperation, investment and development. Vital, too, is the ETO Principles' link with effective anticorruption and sound post-disaster reconstruction efforts. These concerns are especially relevant to the MENA region and to remedying the violations committed against its peoples, whether in Palestine, Western Sahara, greater Sudan, Egypt, or beyond.
Download the Fisheries Partnership Agreement