Join Learning and Advocacy for Climate Justice and Social Production of Habitat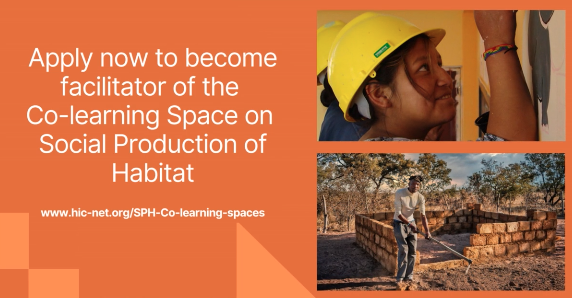 Habitat International Coalition has launched its call for the second phase of its Co-Learning Spaces project, which will focus on Social Production of Habitat and Climate Justice. The project is based on the interests and inputs by HIC Members, and facilitated by the HIC Reference Centers (HIC-HLRN, HIC-MENA, and HIC-AL) and the General Secretariat.
Calls for applications for facilitators for each of the Climate Justice and Social Production of Habitat spaces were launched on 20 March 2023, closing on 31 March. Co-Learning Space facilitators will be part of a cross-regional team of 6 people (2 from Africa, 2 from MENA and 2 from Latin America) that will plan, implement and help in the follow-up of four Co-Learning Space sessions. Facilitators will contribute their experience in climate justice and social production of habitat, and through their specific regional perspective, in the organization and development of the Co-Learning Spaces and a corresponding strategic action plans to promote and advocate these themes. Facilitators will collaborate closely with HIC Learning Officers from the General Secretariat, HIC-AL and HLRN and the Coordinators of Africa, MENA, Latin America, HLRN, the General Secretary and HIC President during five stages of the Co-Learning process: preparation, planning, implementation, post-implementation and follow-up.
Facilitators are expected to be identified by mid-April, with regional consultations taking place later in the same month, and cross-regional kick-off meetings scheduled for May. Planning of the spaces will take place over the summer. Both co-learning spaces will be facilitated online, over the course of several weeks in the autumn of 2023 by HIC Members in Africa, Middle East/North Africa and Latin America.
Co-learning spaces are cross-regional, multi-session encounters open to all HIC Members, Friends and allies to generate and multiply emancipatory learning practices that can be applied in the defense of human rights related to habitat. At the core of this unique project is the vast experience and expertise held by HIC Members world-wide, who will have the opportunity to share their knowledge with other participants. Each co-learning space will provide participants with a range of opportunities to discuss and reflect collectively on specific issues pertinent to the work of HIC Members, Friends and allies. The co-learning spaces will offer interpretation in Arabic, Spanish, French and English.
The previous phase of the Co-Learning Spaces project focused on Land Rights, Feminist Approaches to Habitat and Multi-level Advocacy. HIC is in the process of developing podcasts based on those sessions, and currently three episodes from the Feminist Approaches to Habitat podcast have been released in English, Spanish and French, available here.
Image: HIC announcement of facilitator positions open for candidate nominations. Source: HIC-GS.