Climate, Broken Promises, Carbon Offsets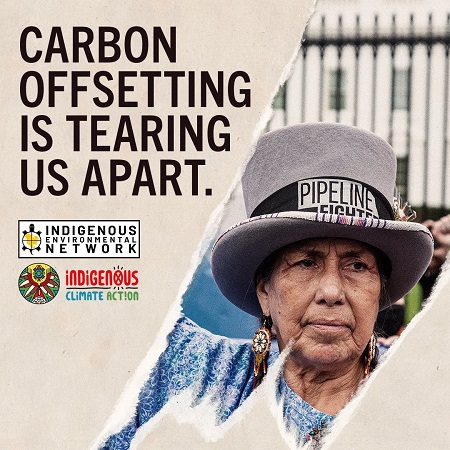 Despite lawsuits, calls by millions of Americans in the USA to halt federal fossil fuel expansion, and the U.S. president's own promise to tackle the climate crisis with the urgency it requires, the Biden Administration oil and gas lease sales across 80 million acres of the Gulf of Mexico and hundreds of thousands of acres of public lands last month, on 17 November, just days after the Glasgow climate talks. The Biden Administration had announced on 30 September that the sale was to comply with a Louisiana court ruling that ordered the resumption of oil and gas lease sales.
The auction of some 80 million acres offshore was the first that the U.S. Interior Department would hold under President Joe Biden, who campaigned on a promise to end new federal oil and gas leasing as part of a climate change agenda. The last such sale in the Gulf of Mexico was in November of 2020, during the Trump Administration.
Energy companies including Shell, British Petroleum, Chevron and Exxon/Mobil offered a combined $192 million for drilling rights on federal oil and gas reserves in the Gulf of Mexico. Despite campaign promises, this first government lease auction under President Joe Biden exposed the hurdles he faces to reach climate goals that require deep cuts in fossil fuel emissions.
Biden had paused drilling auctions after taking office in January 2021, pending an analysis of their impacts on the environment and value to taxpayers. In June, however, a federal judge in Louisiana ordered a resumption of auctions, ruling that the government was required by law to offer acreage to the oil and gas industry, citing the Outer Continental Shelf Lands Act.
The National Ocean Industries Association, an offshore oil and gas industry trade group, said the sale "is welcome news for the [U.S.] American worker and our national security."
In August, the Interior Department also said it would offer almost all available unleased blocks in the Gulf of Mexico at a lease sale later this year. The sale is roughly the same size as offshore sales held by the Trump Administration, which deceived the public and Congress about the threats from global warming and sought to maximize domestic fossil-fuel production.
The Biden Administration already has proposed another round of oil and gas lease sales in 2022, in Montana, Wyoming, Colorado and other western states. Interior Department officials proceeded despite concluding that burning the fuels could lead to billions of dollars in potential future climate damages.
Meanwhile, on 28 October 2021, California Democratic Representative Katie Porter interrogated oil company CEOs and lobbyists who are testifying to Congress, pointing out the vast holding of oil and gas companies that remain unused.
Porter used jars of M&M candies to illustrate the amount of money that Shell will spend on renewable energy ($2–3 billion, according to Shell Oil Company President Gretchen Watkins), compared to oil, gas and chemical operations ($16–17 billion plus $ 3 billion marketing and advertising, according to its annual report this year.
Watkins spoke of a need for "both a demand and a supply of clean energy," and said that her company was working with customers to increase demand. Porter replied by characterizing that response as "greenwashing."
Porter countered, "Shell is trying to fool people into thinking that it is addressing the climate crisis, but what it`s actually doing is to continue to put money into fossil fuels." Porter then asked American Petroleum Institute President and CEO Mike Sommers about public land leased by fossil fuel companies, opening her car trunk to show bags of rice to illustrate the acreage of land.
She presented the analogy that, if we were to imagine each grain of rice represented an acre of already-approved and ready-to-use drilling permits. The acreage would equal 479 pounds of rice, equal to 13.9 million acres. Porter calculated that these oil-and-gas land-lease holding were equivalent to the land surface of the U.S. states of Maryland and New Jersey combined.
Porter then asked each of the executives if they support a pause on new oil and gas leases on federal land. Each said no.
The congresswoman asked, "How much more do you need? How much more acreage? You have two of our 50 states at a price that makes the Louisiana Purchase look like a rip-off ... our public land belongs to the [U.S.] American people, not to Big Oil, she said, and "too much is never enough."
At CoP26 in Glasgow last month, a leader of an Indigenous grassroots movement denounced carbon offsetting, dubbing it "part of a system that privatizes the air that we breathe."
"It allows polluters to buy and sell permits to pollute instead of cutting emissions at the source," said Tom Goldtooth, a Diné and Dakota leader in North America and executive director of the Indigenous Environmental Network. In a public statement, he explained that carbon-offset scheme "lets governments and corporations pretend they are doing something about climate change, when they are not.
Goldtooth lamented, "We're here and we still don't have a seat at the table." "In some areas [of the CoP26 venue] we don't have access, and they're very critical [to the] negotiations. So, we're forced to try to grab people in the hallways."
Carbon offsets are a set of schemes that permit companies, but also individuals, to purchase credits from various environmental projects such as tree planting, or solar and wind farms to compensate for their own carbon footprints. These schemes can often involve large carbon sinks, such as tropical rainforests, in developing countries.
Goldtooth said, "Carbon offsetting perpetuates the theft of Indigenous people's land and our territories. Our brothers and sisters have been protecting their lands and forests for thousands of years. Carbon offsets are a new form of colonialism."
Indigenous groups are not alone in these concerns. On Wednesday, activist Greta Thunberg and members of Greenpeace interrupted a finance panel on carbon offsets at CoP26, also calling it "greenwashing."
Executive Director of Greenpeace International Jennifer Morgan forewarned that "CoP26's worst outcome would be giving the green light to carbon offsetting" adding that it would "blow a huge hole in the Paris agreement."
Mr. Goldtooth concurred, saying that the focus on 'net-zero' emissions was "false and clearly dangerous" as distinct from absolute zero emissions. "These technical fixes violate the natural laws of the atmosphere, of the sky, of the Mother Earth, all that delicate, harmonious structure," he said.
U.S. President Joe Biden attended the CoP26 opening with fellow world leaders, announcing package of climate proposals from ending deforestation by 2030 to a pact to cut global emissions of methane, a potent, short-term greenhouse gas.
In light of the sale of oil and gas leases in the Gulf of Mexico, U.S. corporations and courts continue to contribute to global climate change with impunity. However, a recent analysis from Oil Change International found that if Mr. Biden were to use executive action to halt two dozen fossil fuel projects, it would cut 1.6 gigatons of emissions, equivalent to approximately 20% of 2019 U.S. emissions.
The representatives of impacted communities and other climate justice groups in the Build Back Fossil Free campaign will demand that President Biden keep his promise to end new federal fossil fuel leasing and permitting on public lands and waters.
Photo on front page: A man wears a face mark as he fishes near docked oil drilling platforms, 8 May 2020, in Port Aransas, Texas. Source: Eric Gay/AP. Source: National Geographic. Photo on this page: Full-page ad in the Financial Times:"Carbon offsetting is tearing us apart,"sponsoredby the Indigenous Environmental Network. Source: Financial Times.
Watch oil and gas CEO testimonies before US House of Representatives.