Targeting Homes, Shelter and Shelter Seekers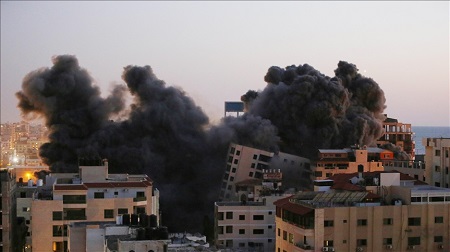 On 11 May, we saw the most-intense exchange of fire in years between Israel and armed Palestinian groups begin in Gaza. By the time the Israeli military famously announced its intended bombing of the Hanadi residential tower block, much unannounced Israeli destruction had already taken place across the occupied Gaza Strip and the West Bank, including Jerusalem. The Palestinian Health Ministry had announced that Israeli airstrikes had killed at least 28 Palestinians across the already long-besieged Gaza Strip.
Israel had already announced that it had attacked Islamic Jihad fighters in another residential building that apparently housed "some kind of Hamas office." After the Israeli strike on that building, the military wing of Hamas announced that it would unleash a barrage of rockets at Tel Aviv. However, Israeli forces, including its judiciary, had caused the demolition of 383 Palestinian homes and livelihood-related structures in the occupied Palestinian territory since January, on track to meet or exceed the rate of 854 demolitions in the pandemic year 2020, mostly in Jerusalem and Area C, affecting 528 Palestinians.
That early-May peak in Israel's "Operation Guardian of the Walls" reportedly followed numerous Hamas warnings throughout that day, telling that, if Israel had proceeded to hit residential buildings, then it would retaliate with unprecedented force.
Abu `Ubaida, the Qassam Brigades spokesperson reminded that it should be expected to see Palestinian armed response to Israel's "attacks on Palestinian civilians and houses in Jerusalem" as precedent. He was echoing the GA resolution 1514 (XV) of 14 December 1960, and reaffirmed in A/RES/45/130, with respect to Palestine, citing "the legitimacy of the struggle of peoples for independence, territorial integrity, national unity and liberation from colonial domination, apartheid and foreign occupation by all available means, including armed struggle."
However, already on 5 May, voices in Gaza asserted the struggle of national unity, warning that they will not stand idly by in the face of attacks on the Sheikh Jarrah neighbourhood." The Qassam Brigades Commander Mohammed Deif even issued a written warning on the night of Tuesday, 4 May. "They will pay a heavy price if the aggression against our people in the Sheikh Jarrah neighbourhood does not stop immediately," he said. Speaking on behalf of the Palestinian people, comprised of Christians and Muslims, he said, in its land, from Galilee to the Naqab.
In Gaza, Israel's targeting of homes continued to the destruction of 2,000 units and partial destruction of another 15,000 homes, leaving over 70,000 Gazans displaced.
But this is only a snapshot, an exercise in reaction to only one of the latest in an unbroken stream of atrocities committed against the Palestinian people as a whole by targeting their homes, shelters and shelter seekers. Two broader issues relevant to the ICC's jurisdiction in investigating potential crimes committed in the oPt since 2012. One is the dilemma over the temporal limits of the Court's investigation, of course, and the other is related to the ongoing nature of crimes defined in the Rome Statute.
While it is generally accepted that war crimes and crimes against humanity are subject to no statute of limitation, customary law Rule 160 bears this out with respect to war crimes, as does the explicit Convention on the Non-Applicability of Statutory Limitations to War Crimes and Crimes against Humanity. (This treaty is joined by only 5 Arab states, but significantly by the State of Palestine in 2015 (as well as Kuwait, Libya, Tunisia and Yemen).
In the present understanding of grave breaches and gross violations of human rights and the rights of victims, particularly from the perspective of restorative justice, such offenses, crimes and abuses remain in process, at least until reparation has been made. One of the significant developments in the ICC over previous tribunals is its two-track remedy for recognized victims of Rome Statute crimes: the reparations that may arise from prosecution, and the various forms of reparations extended through the Voluntary Fund for Victims. This is an advance over the International Military Tribunals at Nuremberg and Tokyo, for example, with their singularly retributive justice approach, where victims did not have a voice or a judicial basis for remedy.
With regard to the Rome Statute's Article 7 on crimes against humanity, one of the clusters of prohibited acts amounts to the crime of apartheid. Even some critical Israeli voices have concluded that this crime is ongoingly committed by the State of Israel and its agents, even if only restricting their view to the oPt. The elements of the crime of apartheid include the perpetrator being aware of the factual circumstances that established the character of the act and its conduct in the context of an institutionalized regime of systematic oppression and domination by one racial group over any other, and/or as part of a widespread or systematic attack directed against a civilian population, and/or when the perpetrator knew that the conduct was part of, or intended to be part of a widespread or systematic attack directed against a civilian population.
Other clusters of crimes against humanity and war crimes (Articles 7 and 8) involve the acts and processes of population transfer. While the serious crime of population transfer—with its push-and-pull factors—was being codified and eventually prosecuted as both a war crime and crime against humanity following World War II, Israel's Zionist public institutions and armed cohorts were plotting and perpetrating the same within their growing sphere of influence in Palestine, including through government bureaus in Western capitals. And despite emerging international humanitarian law (IHL) prohibitions, this violent form of spatial segregation and fragmentation of the indigenous Palestinian people has been carried out as military doctrine by Israeli forces since 1948 by targeting Palestinian homes, shelters and shelter seekers. In complementary fashion, Zionist institutions and persecuting military operations have combined to ensure an unbroken pattern of dispossession and transfer under Jewish domination over all of historic Palestine until today.
A lesson learnt, especially within HIC-HLRN has been the inextricability of the recent developments from the long and systematic pattern of deliberate population transfer through "Targeting Homes, Shelters and Shelter Seekers during Operation Cast Lead in the Context of Israeli Military Practice." That was also the title of our submission to the 2009 Goldstone Commission, which the Commission's outcome report cited repeatedly. The attacks on Palestinian homes, shelters and shelter seekers formed such a seamless continuum that extended back to the 10 March 1948 Plan Dalet. This practice in grave breach of the Laws of War, has remained Israel's military doctrine ever since, as recently demonstrated, once again, in Gaza, May 2021.
See Targeting Homes, Shelters and Shelter Seekers during Operation Cast Lead in the Context of Israeli Military Practice, submission by Housing and Land Rights Network – Habitat International Coalition to the UN Fact-finding Mission on the Gaza Conflict (Cairo: HIC-HLRN, July 2009).
Photo: Israeli warplanes destroy 12-story residential building in Gaza, 11 May 2021. Source: Anadolu Agency.