Urgent Action on Forced Evictions in Zimbabwe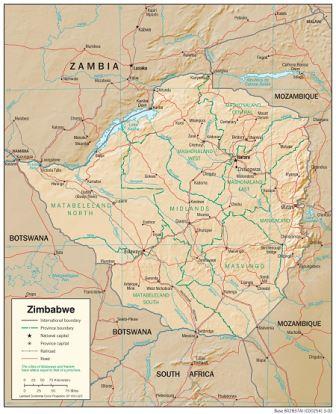 In February 2019, the Zimbabwe People's Land Rights Movement (ZPLRM) notified HIC-HLRN of a number evictions and threat of eviction in Masvingo, Mashonaland Central, and Manicaland provinces. In response, HIC-HLRN launched an Urgent Action campaign appealing to duty holders to meet their human rights obligations under international law. HIC-HLRN and ZLRM remain concerned that evictions persist contrary to Zimbabwe's obligations under international law, and contravening articles of its own constitution.
In Masvingo Province, 1,000 families were served eviction notices in January 2019, and plans to evict a further 10,000 people from their homes have been reported, including from one Dutch-owned property. These evictions are being led by the Ministry of Lands, Agriculture, Water, Climate and Rural Resettlement, which has cited violations of section 3 of the Gazetted Lands (Consequential Provisions) Act Chapter 20:28, claiming that residents are occupying land without lawful authority.
The Ministry has confirmed that it is focusing on evictions of people who do not hold offer letters for the land on which they live, and who are settled near major dams. However, some residents, who settled in the early 2000s and have built permanent structures on the land, have indicated that they were given permission to live there as part of a prior land concession, while others say they have already regularized their residency with the government and pay taxes. The government has not offered compensation or relocation to the people they are threatening to evict.
Further evictions have occurred in Mashonaland Central and in Manicaland. Residents there face threats and intimidation believed to be retaliation over a court case against the government over their eviction.
Having ratified the International Covenant on Economic, Social and Cultural Rights (ICESCR) on 13 August 1991, the Republic of Zimbabwe is treaty bound to conduct itself according to human rights standards. Thus, by conducting and threatening these evictions, Zimbabwe may be violating articles 6, 7, 10, 11, 12 and 13 of the Covenant, including the duties specified in the General Comments Nos. 4 & 7 on the human right to adequate housing and on forced evictions.
Furthermore, it has been reported that the Dutch Ambassador to Zimbabwe indicated that no further Dutch investments would be made in the country until residents were evicted from the Dutch-owned property. The forced eviction of Zimbabwean inhabitants with acquired rights to the land may constitute a violation of The Netherlands' extraterritorial obligations under ICESCR, prohibiting forced evictions by legal or moral persons of Netherlands nationality anywhere.
Since 2000, the HIC-HLRN Violation Database has recorded 18 major housing and land rights violation cases in Zimbabwe of various dimensions, affecting more than 736,000 people. Forced evictions in Zimbabwe have primarily targeted marginalized people who have lived for years without access to secure land and housing tenure and without adequate amenities such as clean water, sanitation, health services or education. In this context, and in light of these current cases and Zimbabwe's human rights obligations, HIC Joins the ZPLRM is calling on Zimbabwe's authorities to:
1. Immediately rescind eviction orders and cease processes of evictions and land rights violations,
2. Enact a post land reform policy that guarantees security of tenure and
3. Ensure the irreversibility of the land reform program.
Click here to support the campaign. Your participation will send emails on your behalf to urge duty holders responsible for, or complicit in these evictions to avoid violating their treaty obligation to respect, protect and fulfill the human right to adequate housing.
Photo on front page: Lake Mutirikwi, behind the Kyle Dam on the Mutirikwi River in Masvingo Province. Source: Arthur Harmsworth. On this page: Map of Zimbabwe. Source: UN.