Women's Land and Home Project Progress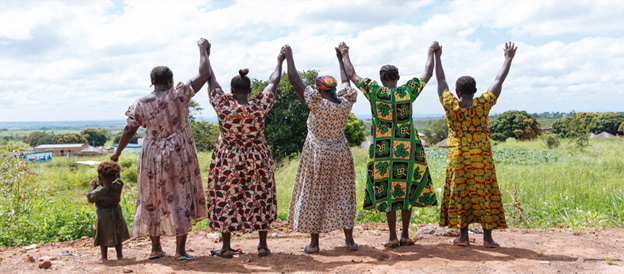 In 2019, HLRN concluded the first phase of its Women's Dispossession from Land and Home project with partners in India (HLRN-India), Kenya (Mazingira Institute and Pamoja Trust) and Uganda (Shelter and Settlements Alternative: Uganda Human Settlements Network). The HLRN Cairo office carried out in-depth training workshops on the applicable norms and tools and techniques for extensive violation-impact assessments in Kenya and Uganda. HLRN-India managed its part of the project from New Delhi.
Throughout the project, HLRN has supported HIC member organizations and local communities in the three countries to implement quantification exercises to document the full inventory of values, including costs, losses and damages, arising from violations of women's rights to access, use and control land for housing and subsistence. The project seeks to operationalize international human rights norms as the normative framework for enumerating consequences from forced eviction, demolition, dispossession and other forms of deprivation in order to support local strategies to advocate for, and realize women's land rights through appropriate remedies and prevention.
Combining local empowerment, knowledge creation, research and documentation the project is intended to support women's housing and land rights advocacy in international forums. These include the various bodies of the UN Human Rights System and the High-level Political Forum on sustainable development goal performance.
Earlier in 2019, HLRN launched a project webpage dedicated to the Women's Dispossession from Land and Home (WLH) project, providing the public with access to workshop materials and survey tools. Materials that can be found here include:
Literature reviews on women's rights to land and home
Normative workshop training materials
Technical workshop training materials for HLRN's Violation Impact Assessment Tool
Workshop reports
Illustrative cases from each India, Kenya and Uganda
Analyses from full application cases from each India, Kenya and Uganda
Genderized survey tools used in full application cases from each country
HIC-HLRN's Violation Impact Assessment Tool
Project reports
The next step in the WLH project is a learning workshop bringing together key participants from India, Kenya and Uganda for exchange and discussion on collaboration and steps going forward (a workshop planned for late March in Nairobi was suspended due to the COVID-19 pandemic). The workshop will also include participants from two additional countries — Zimbabwe and Zambia — where phase two of the WLH project will be carried out with local partners Housing and Habitat Forum (Zambia) and Zimbabwe People's Land Rights Movement. Phase two will also involve "upstreaming" the outcomes of research with HIC-member participation to raise awareness and inform policy at the national level, as well as take advantage of international advocacy opportunities.
Photo: WLH project webpage photo of women in Uganda. Source: HLRN file photo.