All Left Behind: Forced Eviction Crisis amid COVID-19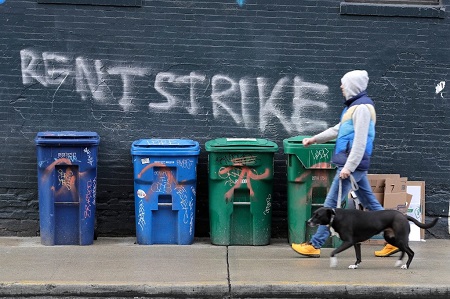 The economic fallout of the COVID-19 crisis risks has put the livelihoods of millions — perhaps billions — of people around the globe in jeopardy. Physical-distancing guidelines and stay-at-home orders have completely halted many sectors that require physical interaction among people, leading to social estrangement and massive job losses in every country. While global health advice has demanded people stay in their homes and avoid unnecessary contact with people outside of their household, huge numbers of people find themselves increasingly vulnerable to losing those very homes.
To certain communities, forced eviction and other housing and human rights habitat-related violations are nothing new. In regions under occupation, such as Kashmir and Palestine, the global health pandemic has not prevented the onslaught of evictions and demolitions constantly endured by the local populations.
On Wednesday 1 July 2020 the UN Security Council unanimously adopted resolution 2532 which demands "a general and immediate cessation of hostilities in all situations on its agenda." Despite this call, occupying states continue to exert the violence of eviction against indigenous peoples from their own lands. To the contrary, states are using the distraction caused by the pandemic to advance their crimes, including increased violent attacks, pending annexation and demographic manipulation.
Even in countries not typically associated with violence and hostility authorities continue to evict people from their homes. HLRN has been collecting documentation of this global pattern of evictions occurring through its Violations Database (VDB) and News Archive.
In Lebanon, which had already been dealing with a devastating economic crisis before the pandemic hit, middle- and upper-class households that suddenly could not afford to pay their foreign domestic workers have taken to unceremoniously sending them into the streets and fueling xenophobia. A similar situation is also occurring in Tunisia, where expats from Côte d'Ivoire are being forced into the streets when unable to pay rent due to pandemic-related job loss. Xenophobia and outright racism is also rearing its head in China, where African people living in Guangzhou were kicked out of hotels, barred from returning to their homes, or even forcibly evicted.
Migrant workers in the Indian city of Bengaluru also found their homes demolished after returning from their villages after the COVID-19-related lockdown, while concern grows for South Asia's marginalized Dalit community, which has also been hit hard by closures and job losses. Even doctors in India are facing increased evictions over fears of contact with the virus at their places of work.
Despite an order from a Kenyan high court halting demolitions in an informal settlement in Nairobi, authorities have evicted and demolished the homes of over 7,000 people since April, presumably to make way for construction of a World Bank-financed sanitation facility. In South Africa, the City of Cape Town demolished at least 49 shacks in Khayelitsha Township in April, following the demolition of five homes in the eThekwini Municipality at the end of March.
Brazil has evicted a group of indigenous people from an informal settlement in Amazonas as well as numerous families in São Paolo, leaving them struggling to stay safe during the COVID-19 pandemic in what is currently the pandemic's second most hard-hit country in the world.
Evictions are also taking place in Colombia: Bogota's Mayor's Office and Colombian Public Forces evicted several families from their homes in Altos de la Estancia, with the authorities claiming that allowing them to remain put them at risk of landslides. In the middle of the pandemic, authorities there have chosen instead to put these newly homeless families at risk of contracting the coronavirus, as they have no other place to live, and have been offered no assistance from the government. There has also been at least one attempted violent eviction in Guatemala, where in April private security forces tried to remove Maya Q'eqchi community members from land coveted by private palm oil companies operating in the region.
These evictions continue despite repeated calls by the international community to halt evictions and take measures to protect those in need. In March, soon after the potentially devastating effects of the pandemic became apparent, HIC-HLRN issued a statement calling for "a total ban on forced evictions, home demolitions, involuntary relocations and dispossession by all spheres of government, sectors and actors, whether in urban or rural contexts" and urging, among other things, an end to layoffs, a moratorium on rent, loan and mortgage payments and the conversion of unused buildings into housing for those in need. Some politicians have called for bans on eviction during the crisis, and local authorities actually have taken such measures also, in numerous cities.
Other recommendations by human rights advocates followed: In April, the Special Rapporteur on the Right to Adequate Housing issued COVID-19 Guidance Notes on the Prohibition of evictions and protecting renters and mortgage payers. In May ESCR-Net issued a Global Call to Action demanding "halting evictions, land dispossessions, utilities cut offs, and related rights violations" while OHCHR released COVID-19 Guidance that urges "good practices such as moratoriums on evictions, and deferrals of mortgage payments" to prevent increased homelessness.
Some countries did enact limited moratorium on evictions, including many states in the United States of America. However, these moratoriums, along with other temporary relief measures put in place, are now (or soon) expiring. Experts now predict an "avalanche of evictions" across that country in the coming months: while physical evictions may have been banned, courts are still open to hear cases and prepare landlords to imminently evict tenants once these bans are lifted. And as in many other countries, predictions also show that such evictions will hit minority communities hardest. The looming eviction crisis there has captured the attention of politically savvy comedians John Oliver and Hassan Minaj, who succinctly captured the link between housing and health: "If you're going to shelter in place, you kinda need the shelter part."
Photo: Graffiti reads "Rent strike" in the Capitol Hill neighborhood of Seattle WA (USA), in April 2020. Source: Ted S. Warren/AP.